A $486 Ethics Complaint Puts Ottawa in Pre-Election Lobby Chill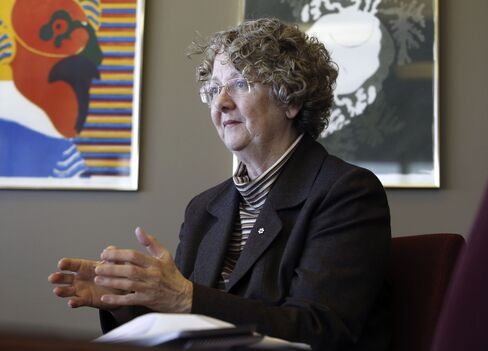 Mary Dawson, Canada's ethics watchdog, had waited years for this kind of case, and here it was in precise detail.
A political aide working for Conservative Party cabinet minister Jason Kenney was accused of breaking rules that Dawson says she's rarely able to enforce.
The smoking gun was modest. The aide, Michael Bonner, accepted C$594 ($486) in tickets to three gala dinners with lobbyists. Bonner said attending was part of his job. Dawson said he broke the rules.
The case is a stark reminder to those seeking to buy influence in Ottawa that even the tiniest transaction is under the microscope in a capital where lawmakers and officials are already hemmed in by strict guidelines. It also demonstrates some rules are misunderstood or even ignored, Dawson says.
Money is already largely frozen out of Canadian politics. Prime Minister Stephen Harper's Conservatives won a majority in 2011 with a campaign that spent C$19.5 million, about a quarter per-capita of President Barack Obama's 2012 campaign spending. Canadians can't give more than C$1,500 to a party in any year, and corporate and union donations are barred.
Dozens of lobbyists recently filled an Ottawa hotel conference room to hear Dawson, Canada's Conflict of Interest and Ethics Commissioner, discuss her findings in what's known as the "Bonner Report."
"I'm rather delighted with the horror with which the Bonner Report has been met, because at least people have noticed," Dawson, 72, said last month. It was the first case with so much detail under her eight-year watch.
Whistle-Blower
The fallout is compounded by the complaint's source. Seven people familiar with the matter said it was Bonner's former fiancee, who also has ties to the Liberal Party, giving the rare case personal and partisan undertones.
The complainant, who considers the matter a whistle-blower case, asked for anonymity and declined to comment when contacted. Bonner, who has accepted Dawson's ruling, declined to comment on the complaint's source.
Dawson said she didn't reveal the complainant's name partly because a complaint was also made to another watchdog who doesn't reveal complainants. While she acknowledged "personal overlays" in this case, Dawson said motive or background is irrelevant.
"I just look at the facts, ma'am," she said.
The report found Bonner accepted four tickets to galas on three occasions from organizations lobbying then-Employment Minister Kenney's office on a particular issue, and took meetings soon before or after the event. They included a pair of tickets from mining company Vale Canada Ltd., and one each from the Aerospace Industries Association of Canada and the Forest Products Association of Canada.
Under C$1,000
Vale spokesman Cory McPhee said the company cooperated with the investigation and wasn't found to have broken the rules. Susan Murray, a forestry association spokeswoman, said the group accepted the findings and wasn't found at fault. A request to the aerospace group wasn't returned last week.
Canada's Conflict of Interest Act bars so-called "public office holders" like Bonner from taking any gift except from a relative or friend, or those considered customary and under C$1,000 in value. Otherwise, they bar any gift "that might reasonably be seen to have been given to influence the public office holder."
Bonner paid for the tickets in the days after Dawson notified him of her investigation and left his position in Kenney's office in October, the report said.
'Gift Cases'
Dawson said she has "been applying the same rules all along, it's just that gift cases don't come along frequently."
Canadian law empowers her to start an investigation on her own, though she says she typically requires a complaint or media report, and specific allegations. "There's lots of them out there, I know. The thing is you can't tell who has paid for the ticket," she said.
Bonner accepts Dawson's ruling, saying he hopes to put the matter behind him. "I was not as familiar as I should have been with these new rules, nor with the very broad concepts of appearance and perception," Bonner said in an e-mail to Bloomberg.
"I saw many staff members and colleagues at social events in Ottawa and accepted a few invitations on that basis and after research into the propriety of going," Bonner said.
Bonner considered the events "a normal part of the Ottawa scene, the type of event that a parliamentarian, an assistant or a bureaucrat would normally attend," Dawson's report said.
'Willful Myopia'
Indeed, several lobbyists and staff interviewed by Bloomberg believe there's a C$200 exemption for gifts. There is not, Dawson said in an interview.
Gift rules are generally disregarded or met with "willful myopia," she said, adding Bonner probably believed he was within the rules. His attendance could give an impression the hosts bought access to the minister, she said in her report.
"It's a wake-up call," said Guy Giorno, Harper's former chief of staff who's now a lobbying lawyer. "People who didn't think about dinners and hospitality, and inviting people in government and the public sector, are more aware of that."
Dawson is now seen to be cracking down, though she says she's going by the letter of the law. The report itself is the extent of her action -- she has the power to impose cash fines of up to C$500, but didn't in Bonner's case.
"This ruling was a surprise to many," said Andre Albinati, an Ottawa lobbyist and president of the Government Relations Institute of Canada. It's "creating confusion within the lobbying community, within the not-for-profit sector, within government circles and parliamentary circles."
Chilling Charities
In an election year, fewer ministers and staff will attend events after the Bonner Report because they're unwilling to run afoul of Dawson, said one Conservative aide, speaking on condition of anonymity.
Some warn the chill will affect charities and non-profit organizations, whose premiere fundraising events rely on selling tables and sponsorships to corporations that invite lawmakers and senior staff.
One Ottawa lobbyist, who spoke on condition of anonymity, said it's probable the firm won't buy another such table. The person, who attended Dawson's speech hoping for clarity, said the event only added to confusion.
MPs and staff can still go to events, Dawson says, but they, or their department, must buy the ticket if they may be lobbied.
"They're using the charity as an excuse for currying influence," she said, referring to lobbyists and companies.
Bruce MacDonald, chief executive officer of Imagine Canada, which represents Canadian charities, said his agency would "be concerned if these individuals, particularly MPs, felt unable to respond positively to invitations from charities."
'Got Teeth'
Dawson was appointed commissioner in 2007, and was renewed last year for another two years.
Green Party Leader Elizabeth May, the only MP to vote against the renewal, said she did so mostly based on criticism Dawson has faced from an advocacy group.
"Democracy Watch has used the term 'lapdog' often enough that I couldn't vote for an extension," May said.
Dawson says she can only investigate cases that come to her. "Don't say that I just suddenly got teeth, because that's not true," she said, adding she may have a couple of new complaints since publishing her report, suggesting the ethics watchdog isn't done yet.
Before it's here, it's on the Bloomberg Terminal.
LEARN MORE