In Saudi Exile, Yemen Leaders Risk Losing Touch With Country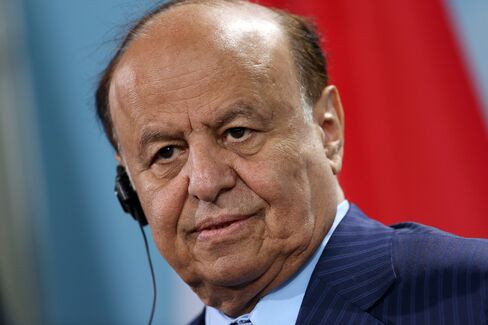 Yemen's exiled leaders met in Saudi Arabia's capital to discuss conflict resolution and post-war rebuilding, as analysts warned that their plans suggest a growing disconnect from the realities in the country.
President Abdurabuh Mansur Hadi and his ministers, who fled to Saudi Arabia in March after being ousted by Shiite Houthi rebels, announced plans to build a unified, federal state after three days of talks in Riyadh.
The Houthis didn't attend the meeting. Hamza al-Houthi, a senior official from the group, said it didn't represent the "political mainstream consensus" in Yemen, though he said the rebels are ready to participate in United Nations-led talks. The Shiite group has said talks should be held in a neutral venue, not one of the Gulf countries that entered the civil war on Hadi's side.
In a speech at the conference, Hadi called the Houthis "a small bunch of people that only believe in the concept of war and destruction," and vowed they will be driven out of Yemen. Yet there's little sign that Houthi gains have been rolled back by almost two months of Saudi-led airstrikes against the rebels, aimed at restoring Hadi's government to power.
The bombing resumed this week after a five-day humanitarian cease-fire. Saudi Arabia said it wasn't extended because of persistent attacks by the Houthis and their allies.
'Keep Bombing'
Hadi still enjoys support in parts of Yemen, especially the south. That's being eroded, as Yemenis on the ground view him as endorsing prolonged airstrikes amid severe food and fuel shortages, said Farea al-Muslimi, a visiting scholar at the Carnegie Middle East Center in Beirut.
The Riyadh meeting "is simply irrelevant to everything," al-Muslimi said. It will make Hadi more unpopular, because "you're going on TV and asking the world to keep bombing your country."
The United Nations World Food Programme said on Tuesday that the five-day cease-fire wasn't long enough to reach all those needing aid, and called for regular "predictable pauses." The UN estimates that 1,820 people have been killed and more than half a million displaced since March.
The UN was brokering talks among Yemen's parties before the Saudi-led airstrikes began, and says it's ready to revive them. UN Secretary-General Ban Ki-moon said Tuesday that he's ready to host discussions. Yemen talks in Geneva will start May 28, according to a UN official who asked not to be named because of the sensitivity of the matter.
The official said Hadi is not expected to attend and will be represented by his deputy, Khaled Bahah. Bahah said the Houthis must disarm before any peace talks, Al Arabiya television reported.
Iran Blamed
The latest Saudi-led airstrikes in Sana'a, Yemen's capital, struck a rocket systems network and an arms depot on Tuesday, according to Fuad Ali, a resident. The home of former President Ali Abdullah Saleh's son was also hit, he said. Saleh has formed an alliance with the Houthis, and elements of the army that remain loyal to him have bolstered the rebel forces.
Bombing also continued in the Houthi strongholds in northern Yemen, close to the Saudi border, local resident Mohammed Saleh said by phone. Hadi's allies and Houthi forces are still fighting for control of southern cities such as Aden and Taiz, where an airstrike on Tuesday left eight civilians dead, according to local media.
Yemen borders Saudi Arabia, the world's biggest oil exporter, and lies adjacent to key shipping routes. The conflict there has escalated tensions between the Saudis and Shiite-ruled Iran.
'Really Desperate'
Iran's government has dispatched a cargo ship with a naval escort that it says is carrying aid for Yemen, risking a confrontation with Saudi naval forces blockading the country's ports. The Pentagon said on Tuesday it's monitoring the situation, while the UN said it has received indications that the Iranians won't force the issue and will instead send the aid to a UN hub in nearby Djibouti.
Hadi on Tuesday repeated accusations that Iran is behind the rise of the Houthis. Western diplomats say the ties exist but have expressed skepticism about the degree of Iranian involvement.
While the Houthis may have lost some of their popularity after failing to deliver on promises of reform when they took over Sana'a in September, they still enjoy support in swaths of the country, according to Charles Schmitz, a Yemen specialist at Towson University in Maryland.
"No doubt people are getting really desperate, but the Houthis seem to be able thus far to keep their forces supplied," Schmitz said. "And outside of the south and east, no popular uprisings have erupted."
Before it's here, it's on the Bloomberg Terminal.
LEARN MORE