What Home Depot's Results Say About the Economy and Housing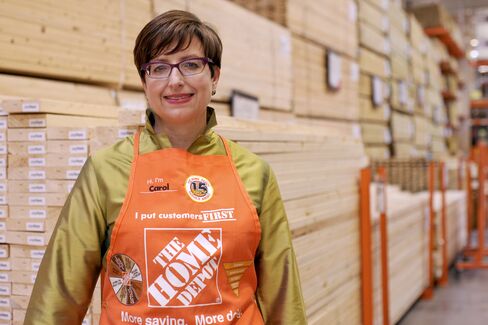 Home Depot Inc. has long been viewed as a proxy for U.S. housing, with conventional wisdom dictating that a strong market means more spending on homes and better results at the chain.
That theory appeared to hold up in the first quarter. Buoyed by rising home values, the retailer posted sales and profit that topped analysts' estimates and raised its forecasts for the year. But with Home Depot shares up almost 50 percent in the past 12 months, it's taking more to wow investors, and the stock slipped 1.7 percent after the results.
So what's ahead for the company and the housing market? Here's a look at what can be gleaned from Home Depot's results:
'STRENGTH ACROSS THE BOARD'
The entire country is improving. The company's 19 regions, top 40 markets and every one of its product departments -- led by tools -- increased sales. "This is strength across the board any way you look at it," Chief Financial Officer Carol Tome said. "This is proof, we believe, of continued recovery in the housing market."
WEAK GDP DOESN'T MATTER
While U.S. gross domestic product came in below expectations in the first quarter, housing prices kept going up, topping even Home Depot's assumptions. And that's all that really matters to the retailer. There are about 74 million American homeowners, and if they think their properties are worth more, they'll spend more. Tome said prices still are 9 percent below their peak from before the recession, giving the company confidence more gains are ahead.
WINNERS AND LOSERS
During the recession, people focused on maintenance. Now, they're investing in big projects. At Home Depot, purchases of more than $900 rose 6.8 percent, while those of less than $50 increased just 3.2 percent. The big-ticket spending is pulling purchases away from other retailers, helping explain why department stores and Wal-Mart Stores Inc. are posting disappointing results. Tome says that when it comes to wealth creation, consumers can more easily see the value of investing in their homes than buying consumable goods.
LEADING OR LAGGING?
Some consider Home Depot's results a lagging indicator, based on the assumption that people change their spending habits at the chain after only after an economic event. But Home Depot's same-store sales started declining in early 2006, before much of retail world reported weakening results. In this past quarter, Home Depot's same-store sales rose 6.1 percent, which is the biggest gain for that period since 2004. Tome said the company is "pleased" so far with May's results and that the month, which makes up a big portion of Home Depot's spring season, may top its projections. She says any divergence from the company's upgraded forecast will likely be of the positive variety. "We don't see a lot of headwinds coming our way," Tome said. "We see more upside potential than downside."
MILLENNIAL HELP
While Home Depot cares most about home-price appreciation, it also has been waiting for millennials to move out, which would mean plenty of spending at Home Depot. Last quarter provided signs of hope that 20- and 30-somethings are renting apartments and buying homes in greater numbers as so-called household formation topped the chain's assumptions. "It looks like 1 million households will be formed this year, which will be awesome," Tome said.
Before it's here, it's on the Bloomberg Terminal.
LEARN MORE