Vodafone Forecast May Trail Estimates on German Competition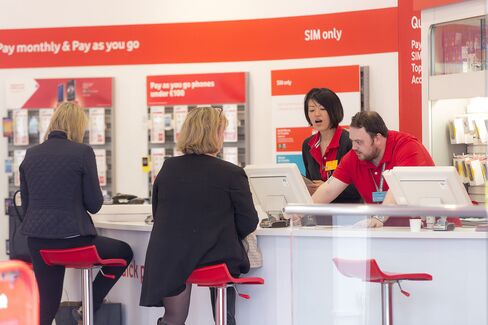 Vodafone Group Plc forecast profit that may miss some analysts' estimates on intense competition in Europe, the wireless carrier's biggest market.
While service revenue at the second-largest mobile-phone company returned to growth for the first time in almost three years, Vodafone said earnings for the year ending March 2016 will be in a range of 11.5 billion pounds ($18 billion) to 12 billion pounds, stripping out interest, taxes, depreciation and amortization. Analysts projected 11.9 billion pounds on average, according to data compiled by Bloomberg.
The shares fell as much as 3 percent in London, reflecting a slump in the German business that surprised some investors, said Paul Marsch, an analyst at Berenberg Bank in London. In Germany, Vodafone's largest country by sales, service revenue shrank 3.1 percent last quarter as Deutsche Telekom AG won subscribers, Chief Executive Officer Vittorio Colao said on a conference call Tuesday. Jens Schulte-Bockum, who leads the unit, will step down this year.
"It's really down to weak German service revenue numbers," Marsch said. Deutsche Telekom reported a 1.9 percent increase in German sales last quarter.
Vodafone shares fell 2.7 percent to 227.90 pence at 12:05 p.m. in London, giving the Newbury, England-based company a market value of 60.4 billion pounds.
Service revenue, the money Vodafone received from customers' plans and traffic on its network, rose 0.1 percent in the three months ended March, the first increase in 11 quarters, Vodafone said. That beat the average estimate by analysts, who had projected unchanged sales.
Marketing Strategy
"We are still negative in Europe but it's a stabilizing trend," Colao said on the call. In Germany, Vodafone is introducing changes to its marketing strategy and focusing on improving its network to win back customers.
Vodafone, second only to China Mobile Ltd. by customers, has added cable and fiber Internet packages and upgraded its mobile networks to give more customers access to high-speed fourth-generation service.
Vodacom Group Ltd., its African unit, on Monday reported a decline in earnings as competition in South Africa, Tanzania and the Democratic Republic of Congo intensified.
BT, O2
Vodafone is also facing stiff rivalry in its home market, where it trails EE Ltd. and O2 by mobile customers. In the U.K., BT Group Plc and EE are merging to create the biggest provider of so-called "quadruple play" packages of TV, broadband, mobile and home-phone services.
Colao said that regulators must force EE to end a network-sharing agreement with Hutchison Whampoa Ltd.'s Three to prevent them from controlling too much of the country's mobile traffic, and that BT and EE should sell some of their 4G spectrum. Vodafone also wants better access to BT's fiber market, which the company relies on to support its mobile traffic and to offer its own Internet services.
BT submitted the EE merger plan to the U.K.'s competition authorities for approval Monday. Competitors will have an opportunity to weigh in before the regulator makes a decision.
Telefonica SA's O2 and Three are also planning to combine their mobile networks, surpassing EE to create the biggest wireless carrier.
Liberty Link
Vodafone plans to start selling its own consumer broadband, TV and home-phone service in the U.K. The company had examined a potential tie-up with billionaire John Malone's Liberty Global Plc, which would give Vodafone access to his fixed network in Europe and the U.K., people familiar with the matter said last year.
Colao said in a conference call with analysts that he wouldn't comment on M&A speculation.
"In practical terms," he said, "we look at assets, we look at countries, and if we find things that make sense, whether it's Liberty or Hellas Online or whatever, we will look and consider, and if there aren't, we continue with our organic strategy."
Before it's here, it's on the Bloomberg Terminal.
LEARN MORE