Unilever Finance Chief Huet to Step Down Later This Year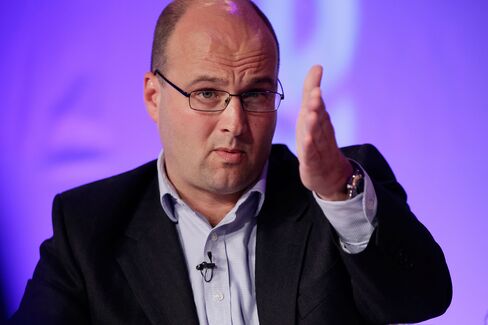 Unilever said Jean-Marc Huet will step down later this year, the latest in a slew of finance-chief departures among consumer-goods companies.
Huet will leave on Oct. 1 after more than five years at the maker of Knorr soups, London- and Rotterdam-based Unilever said Tuesday. The 46-year-old will be succeeded as chief financial officer by Scotsman Graeme Pitkethly, the 48-year-old executive vice president of Unilever U.K. and Ireland.
"We are a bit surprised about this decision, but do not read anything negative into this change," Alain Oberhuber, an analyst at MainFirst Holding AG, said by e-mail.
There's been a spate of finance job changes among European consumer-goods companies recently, with Beiersdorf AG and Danone among those making changes. Nestle SA, the world's largest food company, is seeking a replacement for CFO Wan Ling Martello after she moved to another role in the Swiss company. Huet's departure led to speculation that he may be a candidate for the Nestle role, though a clause in his contract means he can't work for a competitor of Unilever until April 2016.
In a statement, Huet said that after he has ensured "a seamless transition" to his successor, he will spend "some time deciding what new opportunities to pursue."
Unilever shares rose 2.4 percent to 39.32 euros as of 10:12 a.m. in Amsterdam, mirroring gains across European markets.
Stock Outperformance
Huet, a former Goldman Sachs Group Inc. investment banker, was hired from Bristol-Myers Squibb Co. and since joining in 2010 has worked alongside Chief Executive Officer Paul Polman to shrink the company's roster of food brands. Divestments have included Skippy peanut butter and Ragu pasta sauce.
Unilever shares have risen 72 percent since his arrival, compared with a 59 percent gain for the STOXX 600 Index.
"We believe the investment community will regret seeing him leave," Marco Gulpers, an analyst at ING, said in a note.
Pitkethly has been at the company since 2002 and has held roles including head of treasury, pensions and tax. His past positions have also included head of mergers & acquisitions and CFO of Unilever Indonesia.
"He is clearly a person the investment community needs to get to know," Gulpers wrote.
Before it's here, it's on the Bloomberg Terminal.
LEARN MORE