World Health Agency Wants $270 Million Makeover of Geneva Home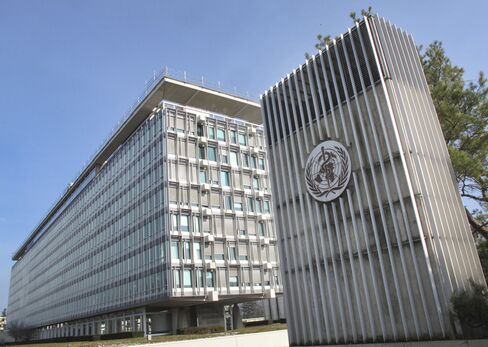 As world leaders meet in Geneva this week to help speed the World Health Organization's response to deadly outbreaks, the agency says it wants 250 million Swiss francs ($270 million) for a better home.
Featuring panoramic views of Mont Blanc, the WHO's headquarters is a ramshackle, slightly dilapidated campus on Geneva's semi-urban northern fringe, where lambs can sometimes be heard bleating. Seven of its 10 buildings are temporary structures that the 67-year-old agency says don't necessarily comply with urban planning guidelines.
That doesn't befit a global body Chancellor Angela Merkel said Monday was "the only international organization that has universal political legitimacy on global health issues." Even as WHO Director-General Margaret Chan establishes a new global health emergency workforce, she's pushing ahead with a plan to make the agency's headquarters more energy-efficient and "fit for purpose."
WHO asked architects Berrel Berrel Kraeutler AG in March to build it a nine-story office tower and restaurant, favoring the Zurich-based firm's ideas over more than 250 other submissions.
Details for the two-stage, 10-year project will be refined over the next few months, Chan said in a report prepared for the WHO's annual world health assembly, which began May 18.
"Already, it is estimated that energy consumption could be reduced by as much as 70 percent," the agency noted.
The first stage will involve constructing a new tower featuring an open atrium and 8,000 square meters of technical and support facilities at a cost of about 140 million francs.
Land Sale
The second step will require the complete renovation of the WHO's main building, which has accommodated about 1,000 staff since 1966. The refit, costing an estimated 110 million francs, will include replacing the building's entire heating, ventilation and air-conditioning system, and replacing its electricity wiring and sanitary plumbing.
A real estate fund will finance the renovations pending the sale of land for about 43 million francs, WHO said. Swiss authorities agreed to provide 140 million francs as 50-year interest-free loan for the construction work. Of that, the release of 14 million francs has already been approved to support planning for the building.
Before it's here, it's on the Bloomberg Terminal.
LEARN MORE