Obama Says Immigration Case May Force State Fights on Courts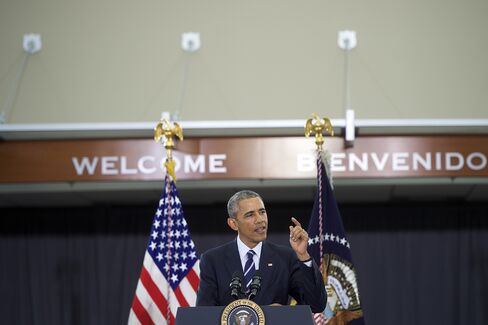 President Barack Obama warned that courts will be stuck deciding immigration disputes between states if his plan to let as many as 5 million undocumented migrants stay in the U.S. remains on hold.
The Obama administration asked the U.S. Court of Appeals in New Orleans Monday to set aside a court order blocking the program while 26 states fight to throw it out completely. The White House repeated its insistence that the president has exclusive authority to enforce immigration laws and can adjust policies as he sees fit.
Fourteen states have sided with the White House in the case, arguing the benefits of immigration outweigh its costs. The Texas-led suit poses "a substantial risk of interfering with the government's ability to speak with one voice on matters that may affect trade, investment, tourism and diplomatic relations for the entire nation," the administration argued.
Texas persuaded U.S. District Judge Andrew Hanen in Brownsville to temporarily halt the administration's plan to shield certain immigrants from deportation and provide them with work permits and other benefits. The program is intended to primarily help immigrants brought here as children and those with children who are U.S. citizens.
'Executive Amnesty'
The states condemn the program as "executive amnesty" and claim Obama overstepped his authority by rewriting immigration laws without approval of Congress or the courts.
Hanen blocked the program in February to let the court challenge play out by ruling the administration skipped a required step letting the public review and comment on the policy shift in advance. He delayed ruling on the state's constitutional arguments until trial.
The appeals court is already considering an earlier White House request to lift Hanen's temporary hold so immigration agents can start processing paperwork immediately. Obama's latest bid doubles down by asking the appeals court to throw out Hanen's ruling or at least allow the program to begin in states that aren't suing to stop it.
The White House urged the court to reject the states' complaints that, if Obama's immigration initiative is later overturned, they'll be forced to provide hundreds of millions of dollars in benefits and services to people in the country illegally, with little hope of recovering those expenditures.
The Obama administration argued in Monday's filing that any increased spending would be offset by an estimated $845 million yearly increase in state and local taxes paid by immigrants who "come out of the shadows" and enter the legal workforce.
Without a provable injury, the states have no legal basis to sue, the U.S. said.
"A plaintiff cannot be said to suffer an economic injury from conduct that financially benefits it," the administration said.
The case is Texas v. U.S., 15-40238, U.S. Court of Appeals for the Fifth Circuit (New Orleans).
Before it's here, it's on the Bloomberg Terminal.
LEARN MORE