Nordea CEO Tells Swedish Government Bank Tax to Hurt Economy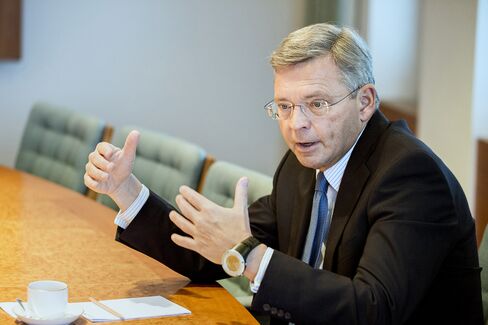 Nordea Bank AB Chief Executive Officer Christian Clausen criticized the government for planning a tax on the financial industry he says will hurt the economy.
"Any cost you put on the financial system is of course a cost to the economy as the financial system is an intermediary in the economy," Clausen said in an interview on the sidelines of a seminar in Stockholm on Tuesday. With such a tax, "you're actually taxing the economy, that's our standpoint."
The comments come less than two weeks after Nordea Chairman Bjoern Wahlroos warned that banks may shift parts of their business to avoid a financial levy. But Sweden's Social Democrat-led government has made clear it expects much of the financing for welfare pledges to come from the financial industry. Finance Minister Magdalena Andersson said May 1 Sweden's biggest banks are "making big money" but are "under-taxed."
Wahlroos's remarks led to a spat with Prime Minister Stefan Loefven, who last week told the Nordea chairman to "wait" before "packing his boxes" and fleeing the planned tax until his administration has worked out the details.
The government has given itself until November 2016 to complete a review of the proposal. The levy would either be placed on bank payrolls or revenue and could bring in at least 4 billion kronor ($480 million) a year in proceeds.
A Smile
Wahlroos said banks may be tempted to move some operations to Copenhagen or London if the tax is enforced. The comment intrigued Andersson, who told reporters on Tuesday she found the choice of Copenhagen "very interesting" given that Denmark already has a payroll tax. She said reading Wahlroos's comments made her "smile."
Though Denmark has a payroll tax, its effect was offset by a lower corporation tax, "so it was largely neutral to the banks' earnings," Karl Morris, an analyst at Keefe Bruyette & Woods Ltd. in London, said in an e-mailed comment on Wednesday. "But, it is true that shifting some operations to Copenhagen would not be as advantageous versus Finland, where the economy is struggling relative to the Nordic peers or the Baltics."
The Swedish Bankers' Association said on May 8 that a tax on payrolls would create an incentive to cut staff while a tax based on a lender's size would indirectly constitute a levy on credit. It would also raise costs and could lead to an increase in credit provision from unregulated businesses in the shadow banking system, according to the association.
Andersson says banks currently enjoy an advantage over other industries because they are free of value-added tax requirements.
Though Clausen said Nordea "will accept any outcome," he described the planned levy as "a 4 billion-krona tax on the economy, and of course somebody will have to bear that burden -- obviously, it's a big cost."
At KBW, Morris cautioned against underestimating "the impact it could have -- a payroll tax could very well backfire."
Before it's here, it's on the Bloomberg Terminal.
LEARN MORE