Merck KGaA Earnings Miss Estimates on Cancer Drug Research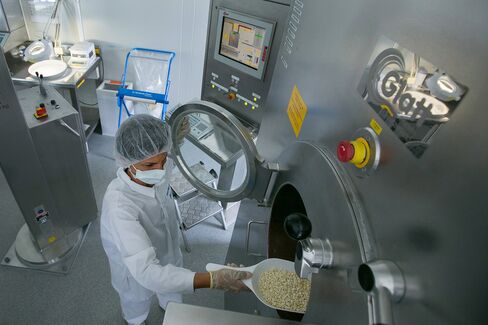 Merck KGaA's first-quarter earnings missed analyst estimates as the German manufacturer of drugs and specialty materials spent more on marketing and research as it tries to reinvigorate its pharmaceutical business.
Earnings before interest, taxes, depreciation and amortization excluding one-time items rose 5.7 percent to 853 million euros ($963 million) from a year earlier, the company said Tuesday in a statement. That fell short of the 863.5 million-euro average of eight analyst estimates collected by Bloomberg. Revenue rose 16 percent, just ahead of estimates.
Chief Executive Officer Karl-Ludwig Kley is spending more to develop cancer medicines after Merck went a decade without a major drug approval. He struck a deal with Pfizer Inc. last year that could deliver as much as $2 billion in revenue. Merck is also diversifying with acquisitions like AZ Electronic Materials SA, which brought it specialty products for use in electronics, and the planned $17 billion purchase of Sigma-Aldrich Corp., which sells chemicals used in research labs.
"It's a so-called transition year," said Peter Spengler, an analyst at DZ Bank AG in Frankfurt. "They are investing now for higher earnings in the future. It makes sense."
Investors have generally endorsed that view, sending the stock up about 60 percent in the last year, about double the return of the Bloomberg Europe Pharmaceutical Index. But some analysts say Merck's approach is risky.
'Big Tail'
"If they fail in oncology and in MS, and they don't find anything transformational, then it's one big tail without anything new coming through," said Marietta Miemietz, an analyst at Primavenue in London. "The biggest risk is that they get left behind in the innovation race."
The Darmstadt-based company's two most successful drugs are Rebif for multiple sclerosis and Erbitux for cancer. Merck and Pfizer agreed last year to co-promote Xalkori, a lung cancer drug developed by Pfizer, and collaborate on avelumab, a medicine from Merck's labs that harnesses the body's immune system to attack cancer cells.
"In 2015, we plan to invest heavily in immuno-oncology and together with Pfizer we want to build a strong position," Kley said in the statement.
R&D costs increased 16 percent to 441 million euros in the quarter, as avelumab entered late-stage trials. Sales and marketing costs climbed 10 percent. The stock traded at 100.35 euros, down 1.9 percent, as of 11:20 a.m. in Frankfurt.
Data Imminent
Merck received $850 million as part of the avelumab agreement, and may get the full $2 billion if the product meets certain milestones. Data from clinical trials will be presented at the American Society of Clinical Oncology annual meeting that begins May 29.
Merck repeated its forecast for slight sales growth in 2015, and estimated Ebitda before certain items of 3.45 billion euros to 3.55 billion euros. Sales will rise to 12.3 billion euros to 12.5 billion euros, not including any benefit from Sigma-Aldrich. That's below the 13.1 billion-euro average analyst estimate.
Sales at Merck's performance materials unit, which includes liquid crystals used in televisions, climbed 53 percent to 617 million euros after the AZ purchase.
Drug sales gained 7.4 percent to 1.69 billion euros, led by Glucophage, a diabetes drug that soared 27 percent. Revenue from Rebif, for multiple sclerosis, fell 16 percent to 430 million euros as the company cut prices in Europe while raising prices in the U.S. to "slightly" mitigate volume declines.
Before it's here, it's on the Bloomberg Terminal.
LEARN MORE