Land Securities Profit Climbs as Rental Income Increases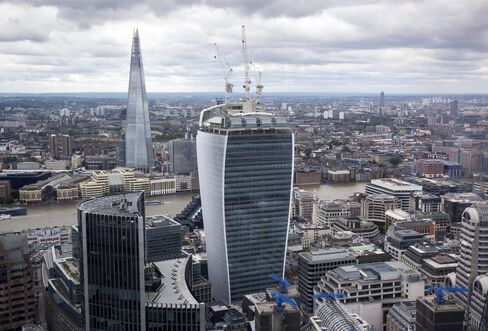 Land Securities Group Plc, the U.K.'s largest real estate investment trust, said full-year profit increased as an acquisition boosted its rental income.
Profit excluding changes in asset values and one-time items rose to 329.1 million pounds ($515 million) in the 12 months through March from 319.6 million pounds a year earlier, Land Securities said in a statement Tuesday. Adjusted net asset value per share increased 27.6 percent to 1,293 pence a share.
The developer of the London tower known as the Walkie Talkie is benefiting from rising demand for City of London offices at a time when few new properties are coming onto the market. Prime rents in the financial district increased by 14 percent over the past two years as available new and refurbished space reached a 10-year low, DTZ said on May 15.
"We are determined to maintain financial strength during this program of significant investment," Chief Executive Officer Rob Noel said in the statement.
Land Securities climbed as much as 2.7 percent to 1,346 pence in London trading, the highest since 2008. Before today, the shares had gained about 23 percent in the last 12 months, while the benchmark U.K. FTSE 100 index increased 1.4 percent.
Acquisition Boost
Rental income was boosted by the company's acquisition of a 30 percent stake in the Bluewater shopping center in Kent, England, the company said.
Adjusted earnings per share rose to 41.5 pence from 40.5 pence a year earlier. That compares with 42 pence, the average estimate of 20 analysts.
Net income more than doubled to 2.3 billion pounds as gains from property values jumped to 1.77 billion pounds from 607 million pounds a year earlier.
While Land Securities has benefited from starting developments without tenants in place, the company is now focusing on building properties after renters are secured, Noel said in the statement. The value of properties under development increased by 38.7 percent, the company said.
Before it's here, it's on the Bloomberg Terminal.
LEARN MORE