Investors Dismiss $90 Billion in Polish Election Pork Barrel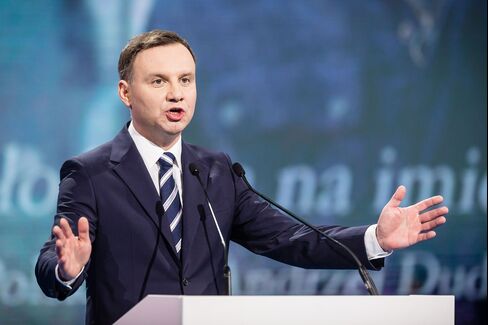 Investors in Polish assets are disregarding an estimated 326 billion zloty ($90 billion) of spending promises made by candidates in a heated presidential election campaign that will end in a runoff this Sunday.
The zloty has retreated 0.3 percent against the euro since the first round of voting on May 10 showed opposition candidate Andrzej Duda ahead, outperforming its regional peer, the Hungarian forint, according to data compiled by Bloomberg. Duda's proposals to reduce the retirement age, raise the level of non-taxable income and introduce tax benefits for families would cost 291.5 billion zloty by the end of the decade, employer lobby group Pracodawcy RP said by e-mail.
Duda's proposed spending increases represent 98 percent of the nation's planned 2015 budget revenue. It compares with 34.5 billion zloty of initiatives tabled by incumbent Bronislaw Komorowski before Sunday's runoff ballot, which has become a referendum on the Civic Platform government's eight-year rule.
"The president can come up with various initiatives but first needs to show how they will be financed," Jaroslaw Janecki, a Warsaw-based economist at Societe Generale SA, said by e-mail on Monday. "What's even more important, parliament must support such plans and today it's hard to say whether this will happen."
Beata Szydlo, the head of Duda's campaign, didn't immediately reply to a request for comment on the cost of her candidate's promises. Komorowski said on Sunday that Duda's spending plans would amount to about 200 billion zloty.
Pracodawcy RP's estimates were first published by the Warsaw-based broadcaster TVN BiS on Monday.
'Huge Pressure'
"Delivering on Duda's promises would undoubtedly tarnish investors' perception of Poland by putting huge pressure on public finances," Lukasz Kozlowski, an economist at Pracodawcy RP, said by phone on Tuesday. "However, it looks unlikely that Duda would be able to introduce all his proposals as the real power is in the hands of the government."
Poland's president can veto legislation, acts as commander-in-chief of the armed forces and has a say in foreign policy. The separately elected parliament passes laws and elects a government, which plans spending and executes the budget.
The incumbent closed in on his challenger in the latest poll released on Tuesday. Duda's lead shrank to 4 percentage points on Monday from 8 percentage points last week, according to the survey by the polling company Estymator for Newsweek Polska.
Greater Volatility
The political uncertainty is also increasing volatility of Polish bonds, which just two weeks ago gyrated less than U.S. Treasuries or Japanese notes. Now they're swinging more wildly than securities from Brazil, South Africa and Turkey.
Implementing all campaign pledges would run afoul of European Union rules limiting the budget deficit, which could put at risk the bloc's transfers to Poland. The nation is set to receive 82.5 billion euros ($92 billion) through 2020 in structural and cohesion funds from the EU, Prime Minister Ewa Kopacz said in February.
"A large increase in the budget deficit would risk future EU cohesion fund payments, which are crucial for Poland's economic development," Carsten Hesse and Christoforos Koumoudos, London-based analysts at broker Wood & Co., said in a note on Tuesday.
Before it's here, it's on the Bloomberg Terminal.
LEARN MORE