ICAP Full-Year Earnings Decrease, Hurt by Weaker Trading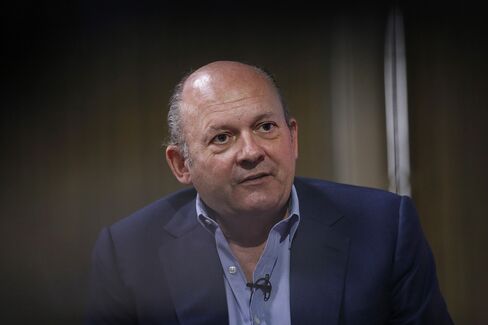 ICAP Plc, the world's largest broker of transactions between banks, reported a drop in full-year earnings, hurt by lower trading volumes.
Revenue for the 12 months through March fell 7 percent to 1.3 billion pounds ($2 billion) from a year ago, the London-based company said in a statement on Tuesday. Trading pretax profit declined 15 percent to 229 million pounds, beating the 226 million-pound average estimate of seven analysts surveyed by Bloomberg, helped by a rebound in the year's second half.
Chief Executive Officer Michael Spencer, 59, cut costs by 41 million pounds in the year, partly by eliminating jobs, as low interest rates around the globe curbed volatility, reducing demand from clients. While the firm said its restructuring program "is essentially complete," it will remain focused on controlling expenses at its global broking business.
"If volumes continue to decline, then we would expect further cost reductions to come out," said Jonathan Goslin, an analyst at Numis Securities Ltd. "Our core assumption is their trading volumes stabilize from here, which would imply the cost cutting program should effectively be finished."
The shares fell 0.7 percent to 559.5 pence at 10:05 a.m. in London. They have increased about 24 percent this year.
'Subdued' Volatility
Interdealer brokers such as ICAP act as go-between for banks that trade bonds, stocks, currencies, energy and derivatives, profiting when prices fluctuate. While currency price fluctuations remained "subdued" in the first five months, volatility increased in the year's second half, helping drive an increase in trading pretax profit of 8 percent to 143 million pounds from a year ago, ICAP said.
Foreign-exchange volatility spiked in January after the Swiss National Bank unexpectedly abandoned its efforts to prevent the franc from appreciating. JPMorgan Chase & Co.'s Global FX Volatility Index rose to 11.5 percent on Jan. 16, compared with last year's low of 5.3 percent on July 3.
Spencer has been seeking to overhaul the company, focusing on technologies including electronic trading as demand for traditional voice brokers evaporated. ICAP's global brokering division cut 740 jobs in the year, reducing the headcount to 2,336 employees, according to the statement.
Revenue from global broking dropped 12 percent to 789 million pounds, while sales at the firm's electronic markets division fell 2 percent to 259 million pounds. Revenue at the firm's post trade risk and information unit rose 8 percent to 228 million pounds in the year, according to the statement.
'Growth Trajectory'
ICAP has been investing in electronic businesses such as its EBS currency-trading platform. It started EBS Direct in November 2013 as trading on its flagship foreign-exchange platform, EBS Market, declined. Average daily volume on EBS Direct was $17 billion in March, compared with $19 billion in October.
EBS Direct's growth stalled as the company made changes to its technology, Spencer said on a conference call. The spot currency-trading initiative will likely be renamed EBS Brokertec Direct and will in the next year add trading in forward currencies as well fixed-income assets, he said.
"I'm hoping and I'm expecting that we are now back on a growth trajectory for the EBS Direct platform and will in the foreseeable future surpass the records of last year," Spencer said.
Before it's here, it's on the Bloomberg Terminal.
LEARN MORE