Hickenlooper's Steak Dinners Lure CEOs as Colorado Economy Rises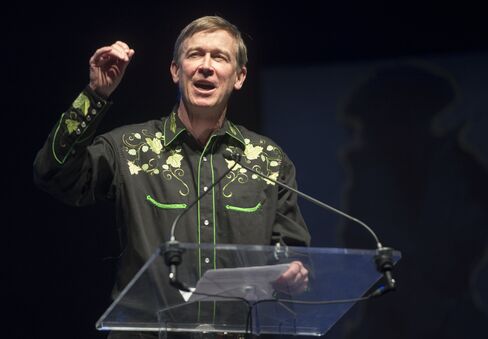 Just after John Hickenlooper took office as Colorado's governor five years ago, he entertained a group of chief executives at his kitchen table over home-cooked steak and salad.
The newly elected governor seated Mike Long of Arrow Electronics Inc., then based on Long Island, across the table from Kent Thiry of DaVita HealthCare Partners Inc., which had relocated to Denver from El Segundo, California, in 2010.
Within months, Long's corporation was also headquartered in Colorado. Such relocations have fueled job gains that led Colorado's economy to improve more in the past five years than any other state except North Dakota and Michigan, according to data compiled by Bloomberg. Denver recorded the sixth-highest economic growth among U.S. metropolitan areas in 2014.
"I ask the CEOs, 'If I want your business to grow jobs what should I be doing?'" Hickenlooper, 63, said in an interview. "Once someone sits at your kitchen table and you eat, I think you have a much better working relationship."
The Democratic governor's name has surfaced as a potential running mate for Hillary Clinton.
"I think there is an opportunity there for whether it's me or someone else, to have a vice president and make them like a chief operating officer," Hickenlooper said.
A former brew pub and restaurant owner, the governor counts many of Colorado's top Republican executives among his closest advisers and biggest campaign donors as he works to diversify the economy from its roots in mining and oil and gas extraction. When he's not selling Colorado to potential employers, Hickenlooper is on the road encouraging residents to take a risk by transforming their hobbies into the next Chipotle Mexican Grill Inc., Crocs Inc. or Celestial Seasonings Inc., all based in Colorado.
Startup Density
Boulder claims the nation's highest technology startup density, followed by the Fort Collins-Loveland metro area, according to an August 2013 report by startup advocacy group Engine and the Ewing Marion Kauffman Foundation.
Entrepreneurs are fueling the state's 4.2 percent unemployment rate -- lower than the national 5.5 percent rate in March -- alongside global aggregators such as Liberty Media Corp., Arrow and IHS Inc., which add jobs as they buy companies.
Colorado bonds have surpassed the performance of those in other states. Anyone who bought the debt of Colorado and held it the past 12 months has an after-tax return of 4.61 percent, or almost a percentage point more than the average for state governments in the U.S., according to data compiled by Bloomberg.
The state ranked No. 4 in employment growth with 297,000 jobs created during the past 5 years, No. 5 in personal-income growth, No. 4 in home price appreciation and No. 7 in the decline in mortgage delinquencies, Bloomberg data show.
Small Business
Still, some small business owners want Hickenlooper to do more to address layers of regulation that boost their compliance costs to $13,000 per employee each year versus the $7,000 annually that larger companies pay, said Tony Gagliardi, the Colorado state director of the National Federation of Independent Business.
"We see these new companies coming to Colorado and we're still asking what's being done to help us," Gagliardi said. "I do appreciate the position he's in, but we would like to see some more visibility from him. He campaigned on these issues, he's a small businessman, he should be more aware of them."
Hickenlooper honed his sales pitch to chief executives as Denver's mayor, an office he held from 2003 to 2010. In a meeting at his office in 2008, DaVita's Thiry asked the governor-elect what he was doing that would improve the quality of life for DaVita's employees' children and grandchildren.
'Talked Expansively'
"That's when he got the most energized and waved off his staff and canceled his next meeting," Thiry said in an interview. "He talked expansively about protecting the environment and growing education."
In relocating his company, Thiry chose Denver over Chicago and Dallas, he said. In 2012, DaVita opened a new $100-million headquarters downtown in the middle of one of the country's largest concentrations of millennial workers aged 25 to 34. Peter Grauer, chairman of Bloomberg LP, is on the board of Thiry's company.
Hickenlooper turned first to business and then to politics after losing his job as an oil-industry geologist in the late 1980s. He checked out a book from the Denver Public Library on how to write a business plan, he said, and opened the state's first brew pub, The Wynkoop Brewing Co. By the late 1990s, Hickenlooper owned more than a dozen pubs and restaurants.
Martin Guitar
The governor's background is on display in his office in the gold-domed state capitol with a view of the Rocky Mountains. In a corner sits a Martin guitar, a gift from Denver-based rock band The Fray.
The guitar speaks to Denver's cultural renaissance. Known in the 1980s for its decaying downtown, the city today is home to more live music venues than Nashville, Hickenlooper said.
During his tenure as governor, 16 companies, including Ardent Mills, Hitachi Data Systems Corp. and the Outdoor Channel have chosen Colorado for their headquarters, according to the state's Office of Economic Development & International Trade.
Since it moved to Denver in 2011, $22.8-billion Arrow Electronics took a similar path, making 35 acquisitions, said John Hourigan, the company's vice president of global communications.
Ardent Mills, which combined the operations of ConAgra Mills and Horizon Milling, is another new arrival in Colorado. After discovering Denver wasn't on the short list for the company's home base, Hickenlooper approached Bill Stoufer, now the company's chief operating officer, and began his sales pitch.
"One of the things I gave him was I said, 'If you come, I will introduce you to the other CEOs who might be able to help you grow your business,'" Hickenlooper recalled. "We are very collaborative here. Part of my job is to make sure CEOs know each other."
Before it's here, it's on the Bloomberg Terminal.
LEARN MORE