Here Are the Winners and Losers of Puerto Rico's Debt Crisis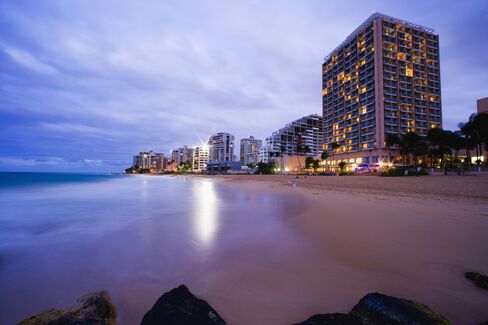 Puerto Rico and its agencies have amassed $72 billion of debt as the junk-rated island's economy has shrunk every year but one since 2006. Investors bought the securities, which are tax-exempt in all U.S. states, for their relatively higher yields. There are fewer residents to help repay the obligations: The island's population has declined 7 percent in the past decade as residents moved to the U.S. mainland.
That combination of rising debt, sluggish economy, and falling population has pushed yields on Puerto Rico debt above those of Greece. The securities have been trading at distressed levels for nearly two years as investors doubted the commonwealth's ability to repay its debt on time and in full. Puerto Rico warned in its latest quarterly filing that it may place a moratorium on debt payments in fiscal year 2016 if the government can't cut spending or raise enough revenue.
The island's state-run power utility, Puerto Rico Electric Power Authority (Prepa) is currently negotiating with creditors to potentially reduce its nearly $9 billion debt load. Such a restructuring would be the largest ever in the $3.6 trillion municipal bond market.
Winner: Law Firms
Unlike Detroit, Puerto Rico and its agencies can't file for Chapter 9 bankruptcy protection. Without a clear legal blueprint, the process of guiding the island and its creditors through a workout agreement will take more time and legal wrangling. That means lawyers for all the different parties—bond holders, banks, bond insurance companies, and government entities—will probably have to rack up lots of billable hours as they seek the best outcome for their clients.
Puerto Rico last year hired New-York based Cleary Gottlieb Steen & Hamilton. Franklin Resources and OppenheimerFunds—longtime investors in Puerto Rico's debt—have enlisted Kramer Levin Naftalis & Frankel, based in New York. A group of 35 hedge funds have retained Morrison & Foerster, headquartered in San Francisco, as well as Washington-based Robbins Russell Englert Orseck Untereiner & Sauber.
Cadwalader, Wickersham & Taft; Weil, Gotshal & Manges, and Debevoise & Plimpton, all based in New York, are representing the different monoline insurers.
Winner: Hedge Funds and Distressed-Debt Buyers
For nearly two years, hedge funds and investors in riskier debt have been purchasing Puerto Rico securities at distressed levels. Meanwhile, traditional tax-exempt investors such as municipal mutual funds have reduced or eliminated exposure to the island.
Paulson & Co. was one of the largest buyers of Puerto Rico's record $3.5 billion sale in March 2014. Jeffrey Gundlach's DoubleLine Capital purchased commonwealth securities this year.
A group of 35 hedge funds, led by Fir Tree Partners and others, holds $4.5 billion of Puerto Rico debt. Firms that bought at a discount may make a profit on Puerto Rico entities that can either avoid a default or that offer recover rates higher than what the hedge funds originally paid to own the bonds.
Prices on Puerto Rico's general obligations maturing in July 2041 fell to as low at 55 cents on the dollar back in July 2014. They're now trading at about 66 cents, data compiled by Bloomberg show. Also that month, certain bonds sold by Prepa fell to as low as 33 cents on the dollar. The bonds now change hands at about 53 cents.
Winner: the Consultants
Puerto Rico needs outside financial advisers and restructuring experts to guide the commonwealth as to how to improve its finances. Three former International Monetary Fund officials—Anne Krueger, Ranjit Teja and Andrew Wolfe—are set to file a report this month on the island's economic and fiscal stability, including an analysis of the sustainability of its public sector debt.
The commonwealth has also hired Birmingham (Mich.)-based Conway MacKenzie to analyze Puerto Rico's liquidity. Last year, Puerto Rico engaged an affiliate of Millstein & Co., whose chief executive officer, Jim Millstein, was the U.S. Treasury Department's chief restructuring officer until March 2011. FTI Consulting, a specialist in corporate restructurings based in West Palm Beach, Fla., is helping Puerto Rico's agencies make the transition to operating without subsidies from the central government.
Lisa Donahue, managing director at New York-based AlixPartners, has been serving as the electric utility's chief restructuring officer since September after bondholders in August signed a forbearance agreement stipulating that the power agency hire an outside restructuring expert. Donahue is set to give her restructuring plan to creditors by June 1.
Loser: Longtime Bondholders
A federal judge in February threw out a Puerto Rico law that would have allowed certain public corporations, such as Prepa, to restructure their debt. The commonwealth is appealing that ruling. That suit was brought by OppenheimerFunds and Franklin Resources, which hold more than $1.5 billion in Prepa debt.
The two are fighting that local debt law because they are the biggest investors of commonwealth debt among municipal mutual fund firms, having bought Puerto Rico bonds before they started trading at junk levels. Oppenheimer held $4.6 billion of Puerto Rico securities, about 17 percent of its assets, as of April, according to Morningstar. Franklin held $2.3 billion—for a 3 percent allocation to Puerto Rico—as of April.
The biggest fund at stake is Franklin's $229 million Double Tax-Free Income Fund, or FPRTX, which directs 47 percent of its assets to commonwealth securities. That's the largest allocation among muni mutual funds, according to Morningstar.
Loser: The Monoline Bond Insurers
Bond insurance companies led by Assured Guaranty, National Public Finance Guarantee, and Ambac Assurance, insure about $14 billion of Puerto Rico debt for the life of the obligations, according to the firms' websites. If the commonwealth or its agencies fail to repay their bonds on time and in full, the monolines would be on the hook to make investors whole.
Assured has the biggest stake, with a $6.04 billion exposure to commonwealth securities through 2047, as of March 31. National follows with $4.5 billion, through at least 2040, as of March 31.
Loser: The People of Puerto Rico
The commonwealth has a history of borrowing to balance its budgets. That trend must change as yields above 10 percent effectively shut Puerto Rico out of capital markets where it can sell debt. Residents potentially face a higher consumer tax, while hundreds of schools may close as the government scales back on public services to match revenue with rising expenses.
Governor Alejandro Garcia Padilla and legislative leaders last week agreed on a proposal to cut at least $500 million of spending—following prior year reductions—and boosted the sales tax to 11.5 percent, from 7 percent. To lower the commonwealth's payroll, the governor has cut 12,500 jobs payable from the general fund, a 12 percent drop.
Before it's here, it's on the Bloomberg Terminal.
LEARN MORE