Former Thai Leader Yingluck Pleads Not Guilty in Criminal Case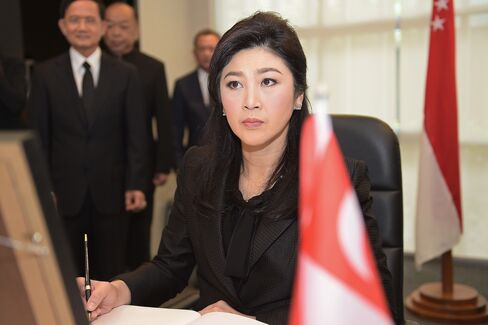 Former Thai Prime Minister Yingluck Shinawatra pleaded not guilty to criminal negligence charges that she says are being pushed by the forces behind the coup that toppled her elected government a year ago.
Yingluck was granted bail by the Supreme Court's Criminal Division for Holders of Political Positions during a hearing Tuesday in Bangkok, and the court allowed her to submit written testimony by July 3.
After her ouster by the military last May, Yingluck was retroactively impeached and banned from politics for five years for failing to stop losses from her government's rice subsidy program. While Yingluck isn't accused of corruption herself in this case, she faces up to 10 years in prison if convicted.
"I am confident in my innocence," Yingluck told reporters before the hearing. "I ask for your cooperation not to criticize the case while the court procedure is ongoing."
Yingluck's party won an election in 2011 in part by appealing to Thailand's millions of rice farmers with a plan to buy their crops at above-market rates. Yingluck said the program was aimed at reducing inequality by boosting rural incomes. Her opponents said it was ill-conceived, encouraged corruption and was a form of vote buying.
The National Anti-Corruption Commission ruled last July that Yingluck was negligent for failing to halt the program after being warned of losses that have since grown to an estimated 536 billion baht ($16 billion). The junta's hand-picked legislature, the majority of members with links to the military, then voted in January to retroactively impeach her.
Thaksin 'Worried'
"I'm worried, because fair treatment is what Thailand needs," Yingluck's brother, former premier Thaksin Shinawatra, said Tuesday in an interview in Seoul. Thaksin was ousted by the military in 2006, banned from politics for five years by a court appointed by the previous junta, and later fled Thailand after being convicted of corruption and abuse of power.
Yingluck's rice program was similar to a subsidy introduced by Thaksin, who was the first Thai prime minister to serve a full term. Despite winning every election since the 2006 coup, parties allied to Thaksin have never again controlled the government for a full term due to court decisions or military intervention. The past decade of political strife has been punctuated by repeated and often deadly street protests by his supporters and opponents.
The court barred Yingluck from traveling overseas and said she must personally attend every proceeding. A list of witnesses and evidence for the case will be assessed on July 21 and July 28, according to Tuesday's hearing.
For more, read this QuickTake: Thailand's Troubled Democracy
Before it's here, it's on the Bloomberg Terminal.
LEARN MORE