Euro-Area Bonds Climb as Coeure Says ECB to Expedite Purchases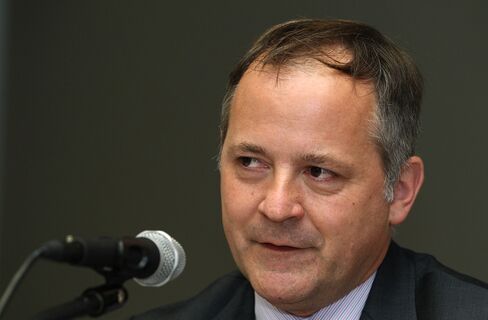 Euro-area government bonds rose as central bank policy makers reasserted their commitment to stimulate the economy with an asset-purchase program that already pushed yields in the region to record lows earlier this year.
Benchmark German 10-year yields dropped to the lowest level in a week after European Central Bank Executive Board member Benoit Coeure said on Monday the ECB will increase the pace of buying under the quantitative-easing plan in May and June. The institution is ready to extend that program if needed, Governing Council member Christian Noyer said separately in Paris on Tuesday.
"It might not only be seasonal reasons why they do this, it might also be to send a signal to the market that the ECB is flexible to react," said Christoph Kind, head of asset allocation at Frankfurt Trust, which manages about $20 billion. "The ECB is also concerned by the rise in yields. This is the reason why the market has reacted."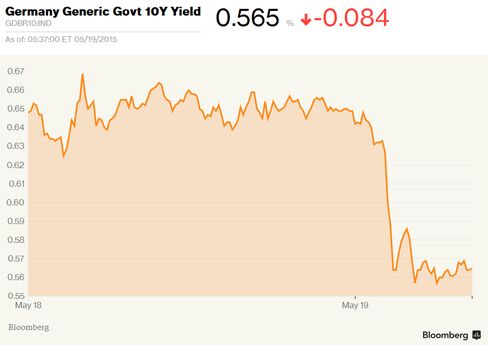 Germany's 10-year bund yield fell five basis points, or 0.05 percentage point, to 0.60 percent at the 5 p.m. London close, having touched 0.55 percent, the lowest since May 11. The 0.5 percent security due in February 2025 rose 0.505, or 5.05 euros per 1,000-euro ($1,119) face amount, to 99.105.
The ECB officials' comments came after a selloff in euro-area bonds over the past month pushed yields up to levels last seen in 2014. The average yield across the euro region climbed to 0.84 percent on May 14, Bank of America Merrill Lynch indexes show. That's almost double its record low of 0.43 percent, reached two months earlier. The yield was 0.81 percent on Monday.
Inflation Data
The decline in debt markets was boosted by speculation that inflation in the euro region was quickening. A report on Tuesday confirmed price growth stagnated in the year through April, matching an initial estimate and ending a four-month run of declines. Inflation erodes the spending power of fixed payments on bonds.
A separate report showed investor confidence in Germany, the region's largest economy, fell to the lowest since December this month.
While describing the bond selloff as "worrying," in the text of a speech delivered in London on Monday, Coeure said the central bank plans to step up its buying to compensate for an expected decline in market liquidity from mid-July to August.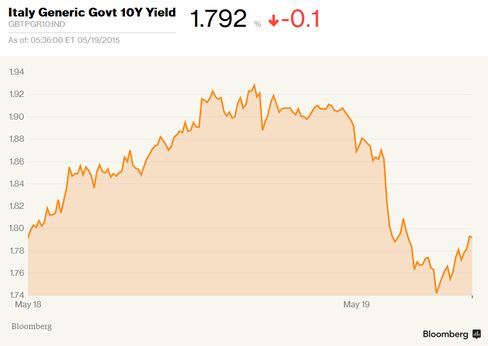 Correction vs Overshooting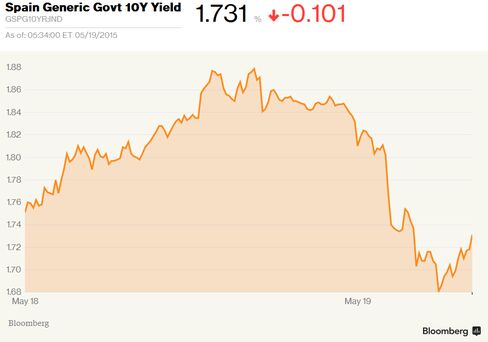 The initial rally in bonds, which took place after the ECB started its purchases in March, was "definitely stronger than we had anticipated," Executive Board member Peter Praet said in an interview with Wall Street Journal published on Tuesday. "Some correction is in line with the prior overshooting."
Italy's 10-year bond yield slipped eight basis points to 1.81 percent, and the yield on similar-maturity Spanish debt dropped eight basis points to 1.75 percent.
"At exactly the time we needed the ECB to step in and prop up the market, that's exactly what they are doing, even if it is simply a practical reaction to much of Europe going on vacation," Owen Callan, a fixed-income strategist at Cantor Fitzgerald LP in Dublin, wrote in an e-mailed note to clients. "Overall, this could give the market the floor it has badly been looking for over the last couple of weeks of selling and volatility."
Before it's here, it's on the Bloomberg Terminal.
LEARN MORE