EU Lawmakers Back Benchmark Bill to Stop Rigging Scandals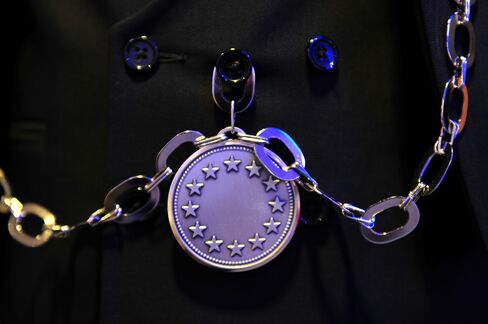 The European Parliament backed a bill that would bar banks from quitting benchmark-setting panels for as long as two years in a bid to keep critical market gauges functioning.
Regulators would get the power to force banks to stay involved, according to the assembly's position on the legislation, which is intended to toughen regulation of key financial benchmarks in the wake of multiple rigging scandals. The vote gives parliament negotiators a mandate to seek a final agreement on the bill with EU national governments.
"The adopted legislation counters conflicts of interest in the production of benchmarks, provides for full transparency and introduces prudential supervision," Cora van Nieuwenhuizen, the assembly's lead lawmaker on the file, said in a statement after the May 19 vote. "The adoption of the legislation by the European Parliament clears the way for negotiations with the Council on the final legislation to begin."
Benchmarks are used to price everything from student loans to mortgages, oil and currencies. Global regulators have moved to tighten oversight of the gauges after the world's largest banks paid billions of dollars to settle allegations of rigging the London interbank offered rate and other interest rates. Six banks were ordered to pay $4.3 billion last year to settle probes into the manipulation of foreign-exchange rates.
The plans formulated by the EU parliament and national governments would set out general ground rules for how benchmarks should be administered, including measures to tackle conflicts of interest.
They would also establish a class of critical benchmarks, such as Libor and Euribor, that would face additional rules and be administered by groups of national regulators, with the European Securities and Markets Authority involved.
Before it's here, it's on the Bloomberg Terminal.
LEARN MORE