He Helped Propel China's Growth, Now He Needs to Fix Its Fiscal Mess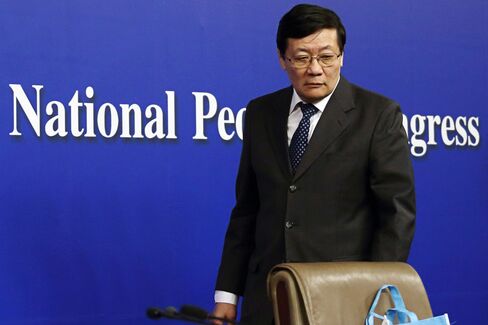 Two decades after he helped craft China's fiscal system, Lou Jiwei is now battling to clean up the mess it has become.
China's finance minister since March 2013, Lou, now 64, needs to travel no further than Tianjin, about 40 minutes by high-speed rail from Beijing, to see the excesses wrought by the debt-fueled investment that the old system enabled. Five years after the first building was finished in the city's replica of New York's Manhattan, the district remains almost deserted, its dirt-covered glass edifices overlooking near-empty streets.
To rein in such wasteful spending, Lou initiated a crackdown last year on the off-balance-sheet financing that local authorities used for their projects. He championed instead the formation of a transparent municipal bond market.
Those plans collided with the weakest economic growth since the 2009 global recession, and a new imperative set by President Xi Jinping to shore up the economy amid a weakening job market. Tuesday, reports showed regulators are considering a relaxation of limits on the local-government financing vehicles at the heart of China's debt surge in recent years. The move came after a Friday missive to banks to keep funding projects approved before year-end 2014, even if borrowers can't meet payments.
"Lou needs to cut the cancer of unsustainable local government debt -- but that kind of austerity cuts consumption, cuts expansion, cuts everything," said Xiao Geng, research director at the Fung Global Institute in Hong Kong. "During this major operation he needs to ensure life support so the whole economy will not collapse."
New Priority
The government order last week to support lending suggests that propping up growth has taken priority for now over efforts to resolve solvency problems in local governments, Fitch Ratings said.
The shift is "the most significant policy easing so far in 2015," said Deutsche Bank AG economists Zhang Zhiwei and Audrey Shi in Hong Kong in a note e-mailed Wednesday. "It is a 180-degree reversal of the fiscal policy from tightening to loosening."
Before the change, the economists saw risks to their growth forecast of 7.1 percent in the second half as "tilted to the downside." Now, the risks are balanced, they said.
Relaxed Rules
Another move would be the relaxation of rules for borrowing proposed by the National Development and Reform Commission. China's top planning body is considering easing the required debt-to-asset ratio and canceling limits on the number of bond sales if proceeds are for projects approved by the government, according to people familiar with the matter.
Brought back to repeat a fiscal fix and rein in the debt expansion, whether Lou succeeds or fails is fast becoming one of the biggest questions for China and the world.
Lou, who became finance minister in March 2013, in the 1990s helped craft the fiscal framework that anchored two decades of 10 percent average growth. A 1994 law banned regional authorities from issuing bonds directly, spurring the birth of thousands of local government financing vehicles used to fund infrastructure projects.
The LGFVs typically used state-owned resources and assets such as land as collateral to set up companies that allowed provinces to borrow from banks. Central to China's lending binge unleashed during the global crisis in 2008 and 2009, the LGFVs have emerged as the poster boys of the nation's excessive debt.
Local Debt
Local-government obligations may have already reached 25 trillion yuan ($4 trillion), bigger than the size of the German economy, according to estimates from Mizuho Securities Asia Ltd. That compares with the figure of 17.9 trillion yuan as of June 30, 2013 given by the National Audit Office.
The first hurdle: Local governments have 1.86 trillion yuan of debt that matures this year, as well as a further 919.3 billion yuan in contingent liabilities. The rust belt of Jilin, the coal hub Shanxi and poorer Yunnan are among provinces facing the most financing risk, according to data compiled by Bloomberg.
"Some compromise needs to be made" on policy makers' plans to reform local borrowing, said Zhang Bin, an economist with the Chinese Academy of Social Sciences, a research agency that advises the government. With the economy slowing, "the job market should be the ultimate source of concern," he said.
A purchasing managers index for manufacturing employment showed jobs were in contraction zone in April, and a similar gauge for services showed service jobs dropped to six-month low.
Graft, Pollution
Compounding Lou's challenge is President Xi's campaigns against graft and pollution, and a shift away from judging local officials by economic growth. That has changed the incentive structure for local officials -- adding more stick and taking away the carrot -- and hampering their approval of new projects.
Goldman Sachs Group Inc. analysts found a correlation at the provincial level between the intensity of anti-corruption investigations and the extent of slowdown in fiscal spending. In a note this week, they estimated under some assumptions that growth might have been 0.4 percentage point higher in the first quarter in the absence of an anti-corruption campaign.
After closing down back-door financing, Lou's plan was to make local governments more transparent by swapping high-yielding, short-term loans for lower cost, longer-term municipal debt. However, this front door opened too slowly, exacerbating the growth slump and eroding the traditional stimulus mechanism in China that relies on investment.
Not Investing
"Local governments have to issue massive amounts of bonds to replace existing debt that's coming due and they're just starting," said Victor Shih, a professor at the University of California at San Diego who studies China's politics and finance. "That's why they're not investing: they can't get money to do anything."
Authorities have also stepped in with plans to make municipal debt more attractive. Commercial lenders, the biggest investors in China's bond market, were given an incentive to buy the bonds, which can be pledged to get central bank funds through various lending facilities and also used as collateral to get treasury deposits and local government fiscal deposits.
Signs of success emerged Monday, when the eastern province of Jiangsu sold local bonds at yields close to that of the sovereign. It issued five-year securities at 3.12 percent and seven-year paper at 3.41 percent.
Some Progress
To the north, in Tianjin, a visit to the planned Manhattan-like area Friday showed work on some buildings had advanced from a year earlier while rows of trees and flower beds had replaced bare earth. More than 5,000 people were moved out of the area starting in 2008 to make way for the project, originally planned to have 15.2 million square meters (164 million square feet) of office space by 2020 in Yujiapu and across the Hai River in Xiangluo Wan, or Conch Bay.
References to the development as a replica of the New York version have faded these days, with posters hanging from its empty buildings saying it will become part of a new free trade zone.
Should efforts to restructure the fiscal system and introduce more market-driven change fail, risks include a 50 percent chance that China slumps into the so-called middle-income trap that's ensnared other developing economies as competitiveness waned, Lou has been reported as saying.
"Xi's ability to engineer a soft landing depends on getting fiscal reform right," said David Loevinger, former U.S. Treasury Department senior coordinator for China affairs and now an analyst at TCW Group Inc. in Los Angeles. "Without fixing fiscal policy, China can't achieve sustainable growth."
— With assistance by Kevin Hamlin
Before it's here, it's on the Bloomberg Terminal.
LEARN MORE