China Grows Its South America Influence After Commodity Bust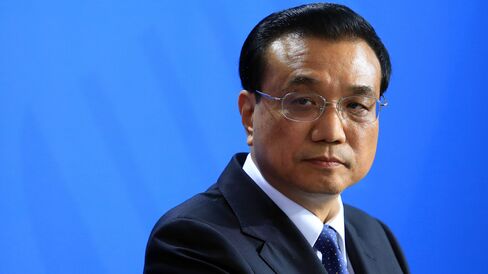 China's interest in Latin America isn't just about oil and agriculture anymore.
As Premier Li Keqiang tours Brazil, Colombia, Peru and Chile for the first time, China is taking advantage of cheaper prices as the commodities super-cycle ends to fast-track its influence in a region that supplies everything from crude to soybeans and copper.
High on the shopping list? Infrastructure, power and banking -- credit-hungry industries that would help promote growth. Among the more than $50 billion in mostly financing deals announced in Brazil Tuesday was a plan by China's BYD Co. to build a solar-panel factory, while China's fifth-largest bank is taking over Brazilian lender Banco BBM SA.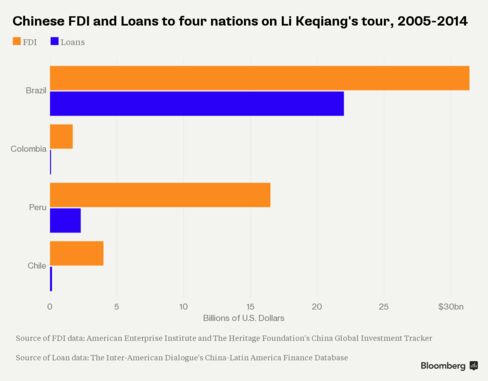 "Latin America as a whole has more difficulties while at the same time China has increased capabilities," said Paulo Vicente, a professor of strategy at Fundacao Dom Cabral business school in Rio de Janeiro. "So the environment is ripe for a wave of Chinese acquisitions or investments."
Chinese companies announced 37 deals and investments in Latin America in the past 12 months, a 37 percent increase from the previous year, according to data compiled by Bloomberg. China is looking to step up investment as its demand for Latin American commodities slows.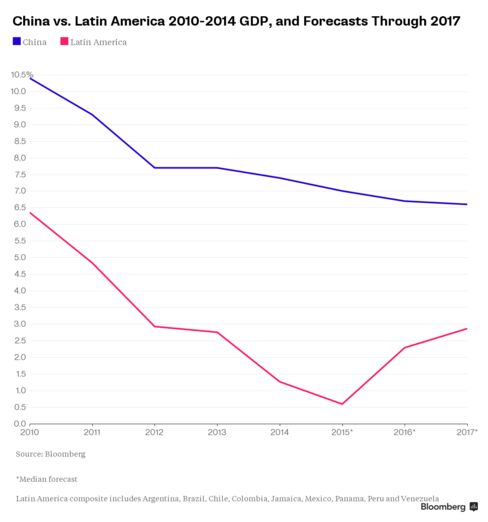 China's next steps in Latin America may mirror its approach to Africa, where the Asian giant is showing little restraint in scooping up assets and planning billion-dollar projects, including a hydroelectric dam on the Nile and railways and pipelines to transport commodities. In sub-Saharan Africa, China's investments have grown 40-fold since 2003.
Petrobras Funding
In the past few years, China's appetite led to various projects in Latin America, from building a $50 billion waterway in Nicaragua to a nuclear pact with Argentina and even soccer academies in Brazil.
More recently, China Development Bank was among Chinese lenders to approve $10 billion in arrangements with Brazilian state-run oil producer Petroleo Brasileiro SA in the past two months. Bank of Communications Co., China's fifth-largest bank, agreed to buy an 80 percent stake in Brazilian lender Banco BBM. In infrastructure, Brazil's Caixa Economica Federal and China's ICBC are setting up a $50 billion fund, Brazilian Ambassador Jose Alfredo Graca Lima said May 14.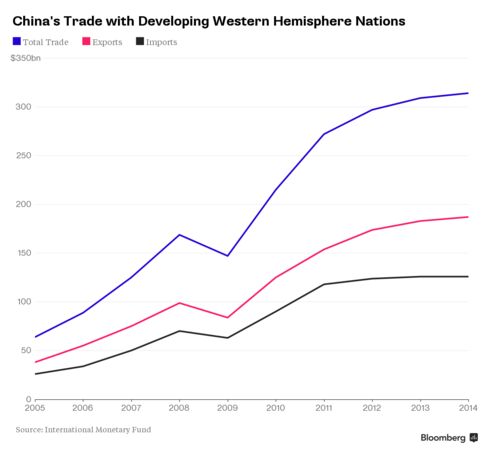 Just in the four-day state visit to Brazil that began Monday, Chinese companies may announce total investment intentions of as much as $100 billion driven by cheaper asset prices, said Charles Tang, head of the Brazil-China Chamber of Commerce & Industry. President Xi Jinping in January said trade with Latin America would rise to $500 billion in the next decade with investment stock reaching $250 billion.
Investment 'Wiliness'
"You will see a tremendous growth in the rhythm of investments of China in the region, which will really help stimulate the economy," Tang said from Rio. "China is just one of the only countries in the world that has both the availability of resources and the wiliness to invest."
In the past decade, China has loaned more than $119 billion to Latin American nations, much of which focused on oil. Venezuela received $56 billion in Chinese financing while $22 billion went to Brazil and $19 billion to Argentina, according to the Inter-American Dialogue's China-Latin America Finance Database.
In the same period, Chinese direct foreign investment to the region has approached $100 billion, with nearly one-third going to Brazil, according to the Heritage Foundation and American Enterprise Institute's China Global Investment Tracker.
Backlash Seen
"Even though China-Latin American economic relations will continue to deepen and broaden, the recent deals announced will face execution problems," Joao Augusto de Castro Neves, Latin America analyst at Eurasia Group, wrote in a note. "To begin, the amount of loans that actually materializes is typically much smaller than that advertised by the governments."
China's foray probably will also generate some nationalistic protests in the region, Dom Cabral's Vicente said. Even so, the door is open to China in industries that are feeling the pinch of slumping commodity prices, according to Inter-American Dialogue's Margaret Myers.
"Some firms that have been there for many decades now see themselves in an increasingly vulnerable situation," the Washington-based think tank's China and Latin America program director said. "They see a merger or an acquisition with a Chinese firm as favorable."
Before it's here, it's on the Bloomberg Terminal.
LEARN MORE