Carney's Advice to Britons: Don't Get Used to Falling Prices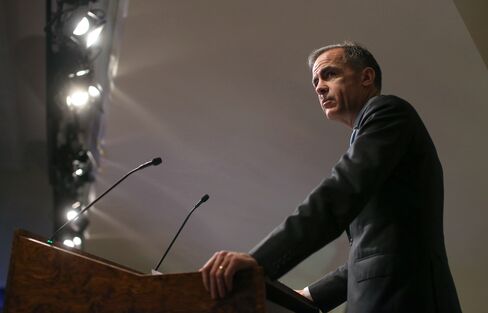 Mark Carney says consumers should make the most of the U.K.'s first negative inflation rate in more than half a century because it's not going to last.
Responding to the 0.1 percent annual drop in consumer prices in April, the Bank of England governor said the dip will be temporary and inflation will pick up again later this year. His message to Britons: "enjoy it while it lasts."
The BOE says the U.K. isn't in the start of a deflationary spiral -- where consumers delay spending in anticipation of further price declines -- but experiencing a brief slip into disinflation that will help to boost real incomes. Chancellor of the Exchequer George Osborne was also quick to dispel concerns after the data on Tuesday, saying it's "good news for family budgets" and shouldn't be mistaken for "damaging deflation."
The drop in inflation has been largely driven by the plunge in oil prices in the second half of 2014, and that will fall out of the calculations later this year. Brent crude prices have risen about 35 percent in the past four months. At the same time, the unemployment rate has fallen to a seven-year low and wage growth is strengthening.
The BOE forecast last week that inflation will average 0.6 percent this year and accelerate to 1.6 percent in 2016. It will return to the BOE's 2 percent target in the second quarter of 2017, according projections published May 13.
Air Fares
While core inflation also slowed last month -- at 0.8 percent it's now the least in 14 years -- it may reverse the move in May. The April reading was affected by air and sea fares and the timing of the Easter holiday.
With inflation currently so low, policy makers are under little immediate pressure to raise the key interest rate from a record-low 0.5 percent. Nevertheless, with a price pickup ahead and potential labor-market pressures building, officials say the next move in borrowing costs is likely to be an increase.
Victoria Clarke, an economist at Investec Securities in London, said the negative headline reading won't be sustained.
The "numbers will not significantly change the shape of the U.K. policy debate, with the position remaining that the next move in U.K. interest rates is most likely to be up," she said. "We don't expect to see debate emerge over the need for further policy easing."
Before it's here, it's on the Bloomberg Terminal.
LEARN MORE