Carl Icahn's Apple Fight Is Worth $5 Billion If He Succeeds
Winning the Apple argument would make Icahn the richest he's ever been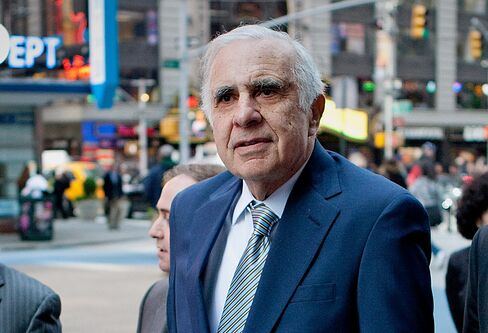 Agitating U.S. investor Carl Icahn made a public plea to Apple Inc. Chief Executive Officer Tim Cook to begin buying back shares with the aim of making the world's most valuable company even more so. Icahn pulled from his usual playbook with an open letter and his Twitter feed to get Cook's attention.
https://twitter.com/Carl_C_Icahn/status/600315019041996800
The 79-year old investor is Apple's largest individual shareholder. He owns 10.6 million shares in his personal investment vehicle, High River, and another 37.6 million through an 89 percent stake in publicly traded Icahn Enterprises. Icahn's 48 million shares are worth $6.3 billion at today's price of $130. If Cook hits the $240 target that the activist billionaire called for in his open letter, it could mean a $5.3 billion gain for Icahn.
Earlier this year Icahn lamented to his 200,000-plus Twitter followers that he sold Netflix Inc. too soon, missing out on the streaming video company's 80 percent increase this year.
If he wins the Apple argument, however, the rise would place the Queens, New York-born Icahn among the world's 25-richest people. At $27.9 billion, according to the Bloomberg Billionaires Index, that would be the richest he's ever been.
With a current net worth of $22.6 billion, Icahn is the 33rd-richest person on earth. That's enough to buy about 1.3 million of the priciest Apple Watch.
Research for the post is derived from Bloomberg Billionaires Index data. Get the latest intelligence about the world's biggest fortunes on Twitter @bbgbillionaires.
Before it's here, it's on the Bloomberg Terminal.
LEARN MORE