Cannes Shoe Flap Sparks Latest Gender Controversy in Hollywood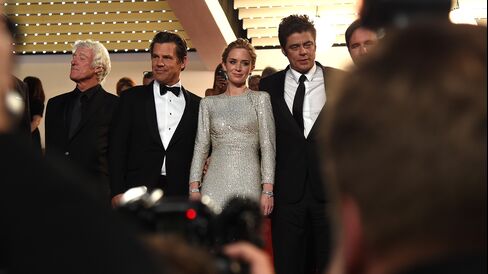 The Cannes film festival became the latest backdrop for the fight against gender bias in the movie industry after some women were turned away from the red carpet for not wearing high heels.
"That's very disappointing," actress Emily Blunt said at a festival press conference for her new film, the drug crime drama "Sicario." "You kind of think there are these new waves of equality."
Blunt, 32, was responding to a report from the industry publication "Screen Daily" that a handful of women in their 50s were turned away from a screening on Sunday night because they weren't wearing heels. Asif Kapadia, director of the critically acclaimed "Amy" that premiered at the festival, said his wife was stopped for the same reason at his screening the day before and eventually let in.
Organizers deny any such a mandate exists. The Cannes Film Festival this year has been a platform for a celebration of women in film, and Thierry Fremaux, director of the festival, said via his Twitter account that the dress code called only for formal evening wear. Officials didn't respond to requests for comment after normal business hours.
By their nature, Hollywood awards shows and red-carpet screenings, staffed by media outlets from around the world, focus film and TV fans on the appearances of their favorite stars and, in the case of women, how they dress.
Julianne Moore and Jennifer Aniston were among the red carpet walkers during this year's industry's awards season who refused to participate in celebrity news channel E!'s "mani-cam," which shows off their manicures. Reese Witherspoon pressed reporters to ask women more interesting questions than the traditional, "What are you wearing?"
'Women in Motion'
The Cannes Film Festival, which is one of the world's biggest markets for independent films, joined this year with Kering, owner of the Saint Laurent and Gucci brands, to sponsor a program called "Women in Motion" celebrating women in film. It included panel discussions and honors at the "presidential dinner" for producer Megan Ellison and Jane Fonda.
Salma Hayek said at one of the panels that leading men often have a veto over who plays the lead female.
"Already they don't pay us the same," Hayek said. "The fact that he has a say who he gets to kiss or not, I find that very sexist."
"Sicario" director Denis Villeneuve, who joked that he would wear heels for its premiere, revealed the screenwriter had previously been asked to rewrite the lead part for a man.
Legal Front
The Southern California chapter of the American Civil Liberties Union and the national ACLU Women's Rights Project called last week for the U.S. government and California to investigate alleged bias against women in front and behind the camera.
The groups are providing data to the agencies that they say reveal dramatic disparities in the hiring of women directors in TV and on big-budget films.
The Geena Davis Institute on Gender in Media, founded by the Oscar winning actress, said last September that a study of 120 films distributed globally from 2010 to 2013 found that 23 percent featured female protagonists, while 31 percent of the speaking characters were women, and 8 percent had female directors.
Before it's here, it's on the Bloomberg Terminal.
LEARN MORE