Bank Indonesia Decision-Day Guide: Mulling Growth vs Rupiah Drop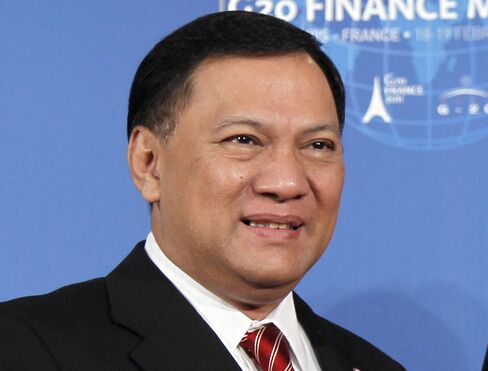 For Bank Indonesia policy makers meeting to set interest rates Tuesday, the decision may come down to weighing the need to shore up the weakest economic growth since 2009 against the danger of a currency slide that stokes inflation.
Adding to the challenge in the meeting, scheduled to end in the Jakarta afternoon, is the political backdrop. Vice President Jusuf Kalla earlier this month stated that interest rates would gradually move lower.
President Joko Widodo's government is contending with faltering popularity. Central bank Governor Agus Martowardojo, grappling with accelerating inflation and Asia's worst-performing major currency, has said he will keep monetary stance "tight".
Following are key points and context to keep in mind in preparing for the announcement:
Benchmark interest rate
Most of the 18 analysts surveyed by Bloomberg News predict Bank Indonesia will hold its benchmark reference rate at 7.5 percent, with only three predicting a cut to 7.25 percent.
The central bank has already lowered the reference rate once this year, and inflation accelerated to 6.8 percent in April, versus an end-year target of 3 percent to 5 percent.
A narrowing current-account deficit may give the central bank scope for policy easing, according to Philip McNicholas, a Singapore-based economist at BNP Paribas SA. The shortfall has shrunk for three straight quarters to the smallest in three years, and the improvement may give the central bank some comfort, he wrote in a note this week.
Standard Chartered Plc cited a "lack of significant inflationary pressures" as well as the narrowing current-account gap for its prediction for a rate cut.
Rupiah
Indonesia's rupiah has dropped about 6 percent this year against the dollar, the biggest loser among 11 most-traded Asian currencies tracked by Bloomberg. A rate cut today could send it lower.
JPMorgan Chase & Co. said in a May 18 note it's a good time to short the rupiah, citing a policy stance that has turned less supportive of the currency due to a "pro-growth bias" of rate cuts.
"Volatility in financial markets suggests now isn't the best time to cut rates," analysts at Australia & New Zealand Banking Group Ltd. including Devika Mehndiratta wrote in a note Monday. "If BI were to deliver another surprise rate cut this week, against their public comments to media, the IDR and bonds would likely come under pressure as their credibility could be compromised."
Compromise option?
Besides the benchmark rate, the central bank has other tools it can use. Governor Martowardojo could adjust one of these, demonstrating commitment to helping the economy while stopping short of lowering borrowing costs and undermining the rupiah.
While the reference rate is the central bank's stated benchmark, the deposit facility rate known as Fasbi and the lending facility rate are closely watched by markets as other indicators of monetary policy. The authority has adjusted the Fasbi before the reference rate in the past, or changed reserve requirements or other liquidity tools while holding the benchmark steady.
The central bank could relax loan-deposit-ratio linked reserve requirements, which could provide some liquidity to the banks, or provide incentives for them to lend more to small and medium enterprises, said Euben Paracuelles, an economist at Nomura Holdings Inc. in Singapore.
"They're worried about the growth slowdown but also they're not able to cut rates because of inflation and the current-account deficit," he said. "They'll probably resort to these" non interest-rate measures instead, he said.
Pressure to ease
Pressure for monetary easing mounted in recent weeks after data showed economic growth slowed to 4.7 percent in the first quarter from a year earlier, well below President Widodo's target of lifting annual growth to 7 percent within his term.
Two days after the May 5 economic report, Vice President Kalla was asked by reporters if it was time to cut rates. "To stabilize" the situation, rates will be "gradually cut" later, Kalla told the reporters after speaking to investors, bankers and businessmen at a conference. If reductions aren't gradual "it will dissuade people from saving money," he said.
Speaking at the same conference less than two hours later, Governor Martowardojo told the audience that "Bank Indonesia will maintain a tight monetary stance to anchor inflation expectations and manage external pressures."
"The government would like to see lower interest rates as in any country. Jusuf Kalla is a businessman, he is well aware of what the business community demands," said Daniel Wilson, a Singapore-based economist at ANZ. "But BI is an independent institution. They still favor a tightening bias. The signals are they will remain on hold for at least the immediate future."
Before it's here, it's on the Bloomberg Terminal.
LEARN MORE