American's Parker Says U.S. Rejected Early Freeze on Gulf Rivals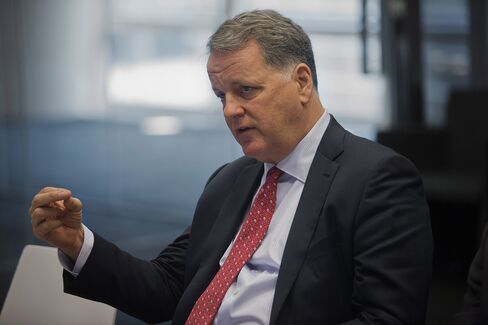 Federal regulators declined to freeze expansion in the U.S. by three Persian Gulf carriers while reviewing whether they're unfairly subsidized, American Airlines' chief executive officer Doug Parker said
U.S. officials turned down the request by American Airlines Group Inc., Delta Air Lines Inc. and United Continental Holdings Inc. because they don't want to take any action while the review is still going on, Parker said in an interview at Bloomberg's New York headquarters Tuesday. "They are doing their due diligence," he said.
The U.S. trio has complained that Emirates, Qatar Airways Ltd. and Etihad Airways PJSC have received more than $40 billion in government support, providing an unfair competitive advantage. The U.S. airlines say the gulf carriers are adding as many flights as possible while regulators decide whether to seek talks over the issue.
"There is urgency around the issue I hope they appreciate," Parker said. "It's just too important."
The three gulf carriers repeatedly have denied that they've been supported by subsidies from the governments of Qatar and the United Arab Emirates.
Those airlines have increased capacity to the U.S. 25 percent since American, Delta and United first raised their concern about the subsidies in January, Parker said. The aid to the gulf carriers is being used to increase U.S. flights and offer discounted connections through Middle Eastern hubs to win international traffic, the U.S. carriers have said.
"If it's allowed to continue or proliferate, there is real risk to the U.S. aviation industry," Parker said. "It's not hyperbole. It's a fact."
Before it's here, it's on the Bloomberg Terminal.
LEARN MORE