A Nasty Tick Attack Outside Boston Sends Crucial Spring Reminder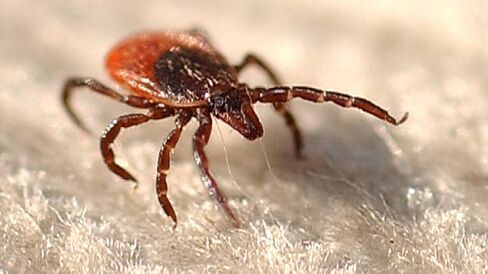 I became a weather statistic two weeks ago.
I didn't freeze, the house didn't flood, a piece of flying debris didn't hit me on the head. I was bitten by a tick, which gave me Lyme disease and anaplasmosis.
That was like hitting the statistical lottery. About 30,000 people contract Lyme disease annually, while 2,000 or so get anaplasmosis, according to the Centers for Disease Control and Prevention in Atlanta.
And it happened on what was probably the first day of the year that it was possible to have such an encounter in the Boston area.
It turns out temperatures and humidity have to be just right for ticks and their nymphs to get the urge to go searching for "their blood meals," said Andrew Monaghan, a researcher and meteorologist at the National Center for Atmospheric Research in Boulder, Colorado.
The day I was bitten, May 4, was the first since October that the temperature reached above 80 degrees Fahrenheit (27 Celsius) in Boston, according to the National Weather Service. The high the day before was 67.
Going Walking
After my elderly aunt's funeral, I decided to take a walk in the Dedham Town Forest, a rugged strip of land in the median of Interstate 95 about 11 miles from downtown Boston. It was a little past 4 p.m. and still warm.
The forest's location in the center of an interstate highway means it doesn't get a lot of visitors, so the trails are often overgrown. I trekked over ground that was soggy and damp and brushed past more than a dozen bushes.
After about a quarter of a mile (400 meters), I noticed an adult tick on my left hand and two more on my right arm.
In the car, I saw that one had bitten me on the face; another turned up on my left hip. I found more ticks in one day than I usually find in a season.
The problem is, I didn't find them all.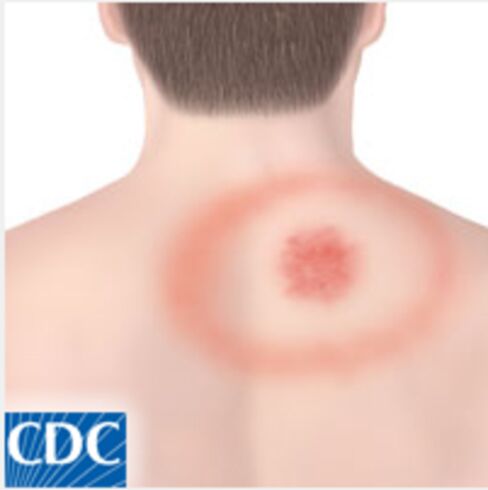 There would be one more, most likely a nymph, smaller than the adults and about the size of a poppy seed. It bit me under my right arm and left the bulls-eye-shaped mark the emergency room doctor would find on May 8.
Disease Carriers
The weather-dependent blacklegged tick, also known as a deer tick, is the carrier of a host of ugly bacteria, according to the CDC. The brands that I got were probably Borrelia burgdorferi, which causes Lyme disease, and Anaplasma phagocytophilum, which led me to test positive for anaplasmosis.
That's a tick jackpot.
I won fatigue, fever, chills that force me to wear a winter coat and a 21-day supply of antibiotics that also mean I have to avoid direct sunlight. A taste of vampirism courtesy of one of nature's bloodsuckers.
The CDC says the majority of tick-human encounters happen in June and July, with May and August coming in second. May, as it turns out, is Lyme disease awareness month, which may actually be too late, said Richard Ostfeld, senior scientist at the Cary Institute of Ecosystem Studies in Millbrook, New York.
Ostfeld said research at the center shows that as the climate warms, ticks are emerging earlier. He would like to see state and local governments start sounding the alarm for ticks in April.
"Even over a 20-year period, the ticks were coming out three weeks earlier in warm years than in cool years," Ostfeld said.
Disease Spreading
Besides the 14 Eastern and Midwestern states where 95 percent of all confirmed cases were seen in 2010, the illness is also spreading into Canada, and disease-carrying ticks are moving to higher elevations, he said.
"They are moving up into places where they weren't found even a few years ago," Ostfeld said.
"It is weird and interesting to me that there is a hole of no cases in Michigan and Ohio," Monaghan said. From a weather point of view, there isn't a lot of difference between those two and the rest of the list, so there has to be something else going on there, he said.
And in case you were wondering, the record 110.6 inches of snow Boston received last winter probably didn't do anything to cut back on the number of ticks. In fact, it may have provided insulation to keep the truly frigid temperatures from finding the little bloodsuckers' hiding places, Ostfeld said.
"Ticks are exquisitely adapted to get out of harm's way no matter what the conditions," Ostfeld said.
Maybe in a few thousand years, humans will have managed to figure out how to stay out of the tick's way.
For now, I'm the guy in the corner, shivering in a winter coat and avoiding the sunshine.
Before it's here, it's on the Bloomberg Terminal.
LEARN MORE