U.K. House of Commons Speaker Bercow Is Re-Elected by Lawmakers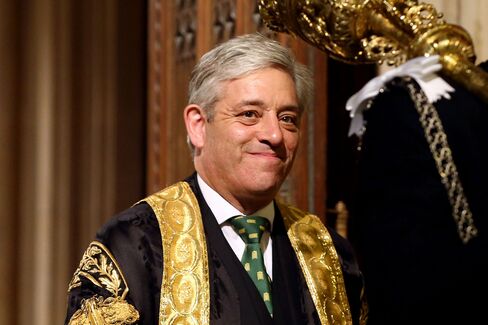 John Bercow was re-elected unopposed as House of Commons speaker when lawmakers backed him to serve for another five-year Parliament, less than two months after the ruling Conservatives tried to make it easier to oust him.
The re-election of Bercow, 52, was the first act of the new Parliament since Prime Minister David Cameron won an unexpected majority two weeks ago.
"It has been an honor to serve as speaker for almost six years, and I would be honored to do so for a little longer," Bercow said on Monday before being re-selected by calls of "aye" from assembled lawmakers.
Cameron and other Tories have had a series of spats with Bercow, who used to be a Conservative lawmaker, resigning his party affiliation on first being elected to the speakership in June 2009 in line with parliamentary convention.
Former Tory leader William Hague tried to push a measure through on the last day of the previous Parliament to make it easier to oust Bercow. The plan, rejected by lawmakers, would have introduced a secret ballot for when the House of Commons is asked whether it wishes to keep the same speaker at the start of a new Parliament. That would have allowed Tory members who have had disputes with Bercow to oppose him without fear of retribution.
Before Bercow was confirmed, the speaker's chair was taken by the new father of the house -- its longest continually sitting member, Gerald Kaufman of Labour, who has been a lawmaker since June 1970. Kenneth Clarke, Michael Meacher and Dennis Skinner also became members of Parliament that year, but Kaufman, 84, was sworn in before them.
Before it's here, it's on the Bloomberg Terminal.
LEARN MORE