TPG Scores $5 Billion Gain in Three Years on Par Pharma Sale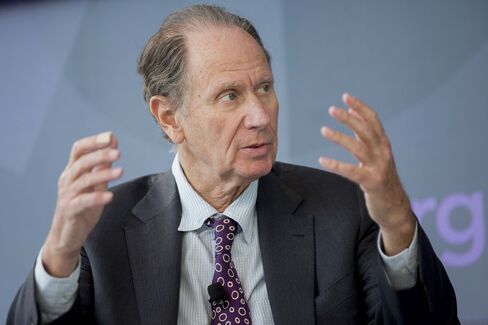 TPG Capital will score at least a $5 billion profit, or about 6.5 times its investment, from its sale of Par Pharmaceutical Holdings Inc. to Endo International Plc after holding the company for less than three years.
TPG and co-investors put more than $800 million in the drugmaker from 2012 to 2014, according to regulatory filings. The owners will get about $5.7 billion in cash and stock from the sale to Dublin-based Endo announced Monday, after receiving a $494 million dividend in February, the filings show.
Luke Barrett, a TPG spokesman, declined to comment on the deal's returns.
The profit is among the largest in the history of TPG, founded in 1992 by David Bonderman and Jim Coulter. It comes as the Fort Worth, Texas-based firm, which manages $67 billion in private equity, credit and real estate investments, finishes raising money for a new buyout fund. The vehicle, which started fundraising in July, will exceed $8 billion in size, a person with knowledge of the process said last month.
TPG is recovering from a series of money-losing investments during the buyout boom and financial crisis. Investments in Texas utility Energy Future Holdings Corp. and the savings bank Washington Mutual were effectively wiped out. TPG's stake in casino operator Caesars Entertainment Corp. is on the line after the company put its biggest unit into bankruptcy.
Built Business
The firm's performance, helped by a surge in asset values, has improved. Its $19.8 billion 2008 fund, which along with a TPG biotechnology fund made the Par investment, was producing an 11 percent annualized gain after fees as of Dec. 31, according to data compiled by Bloomberg.
TPG pursued Woodcliff Lake, New Jersey-based Par for four years before the companies agreed to a take-private deal valued at $2.4 billion including debt in 2012. TPG built the business through acquisitions, including the purchase last year of JHP Group Holdings, which makes injectable drugs, from private equity firm Warburg Pincus for $490 million. Under TPG's management, Par also tripled spending on research and development, according to regulatory filings.
Todd Sisitsky, who leads TPG's health care investments, oversaw the Par deal. The firm last month promoted him to head of North American private equity.
Before it's here, it's on the Bloomberg Terminal.
LEARN MORE