Saudi Coalition Jets Resume Airstrikes Against Yemen Rebels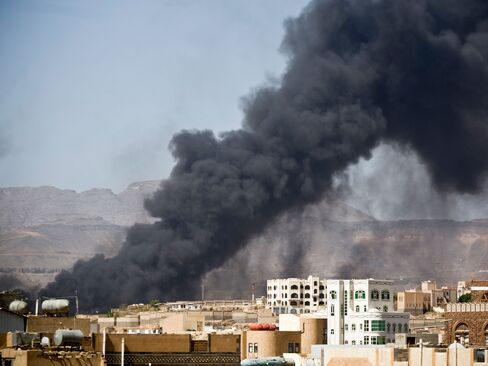 A Saudi-led military coalition resumed airstrikes in Yemen targeting Shiite Houthi rebels after a five-day humanitarian cease-fire ended.
Warplanes carried out strikes against Houthi militia and fighters loyal to former President Ali Abdullah Saleh, who has allied with the rebels, in the southern port city of Aden. Nabil Mohammed, an Aden resident, said by phone that bombs hit areas including al-Tawahi district that was recently seized by the rebels.
Saudi Foreign Minister Adel Al-Jubeir accused the Houthis and their allies of "dangerous violations" of the truce that prevented aid reaching the Yemeni people, according to the official Saudi Press Agency.
Saudi Arabia assembled a coalition of Sunni-ruled nations in March to bomb the Houthis after the group ousted Yemeni President Abdurabuh Mansur Hadi, who is backed by the six-nation Gulf Cooperation Council. The coalition says it seeks to restore Hadi's government and force the Houthis to resume talks. The conflict has raised tension between Saudi Arabia and Shiite-ruled Iran.
The airstrikes came as Yemeni leaders and politicians held peace talks in the Saudi capital of Riyadh. The Houthis have boycotted the event.
On Monday, Ali Akbar Velayati, a senior adviser to Iran's Supreme Leader, told reporters in Beirut that negotiations should be held in a "neutral country."
"Riyadh is a party to the conflict, therefore it cannot host a conference to resolve the crisis in Yemen," Velayati said.
Aid Ship
An Iranian ship hauling aid supplies to Yemen is scheduled to arrive at the Red Sea port of Hodeidah on May 21, according to state television. The voyage is a direct challenge to the Saudi-led blockade. A confrontation near the Suez Canal and key oil transit routes would further destabilize a region rocked by conflicts from Iraq to Syria and Libya.
The United Nations estimates that 1,500 have been killed during the two-month conflict.
The UN High Commissioner for Refugees sent six planes with relief supplies during the humanitarian pause. An estimated 450,000 Yemenis have been uprooted from their homes in the recent violence, the UN agency said in a statement Monday.
While relief was delivered during the cease-fire, "humanitarian assistance cannot replace the needs of 26 million people who have been cut off from a regular supply of commercial imports of food and fuel," Julien Harneis, Unicef's representative in the Yemeni capital Sana'a, said in a statement Sunday.
Before it's here, it's on the Bloomberg Terminal.
LEARN MORE