Rio, Mongolia Agree to Restart Oyu Tolgoi Development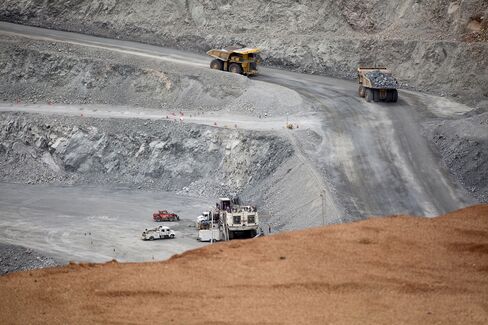 Mongolia and Rio Tinto Group settled their dispute over the $5.4 billion underground expansion of the Oyu Tolgoi copper and gold mine, ending two years of often bitter negotiations and giving a major boost to the economy.
The deal, signed in Dubai at a midnight ceremony, opens a "new page in history" for Mongolia, Prime Minister Saikhanbileg Chimed said in a statement. "Now it's very clear. Mongolia is open again."
Oyu Tolgoi, the largest single foreign investment in the country, came to represent the promise and the problems of doing business in Mongolia. As the dispute dragged on, foreign investment plunged to about $400 million last year from $4.5 billion in 2012. The economy will grow a much slower 3 percent this year, according to the Asian Development Bank.
The agreement will add to the $6.6 billion already spent on stage one of the mine, which helped Mongolia's economy set a world-beating 17.3 percent growth rate in 2011. Oyu Tolgoi, located 80 kilometers (50 miles) north of the Chinese border, is forecast to account for about a third of Mongolia's economy when in full operation.
Turquoise Hill Resources Ltd., which owns 66 percent of Oyu Tolgoi, has seen its shares soar 60 percent in Toronto this year and was up 9.6 percent to C$5.75 at 9:38 a.m. on Tuesday. Rio Tinto, which controls the project through its 51 percent stake in Turquoise Hill, was unchanged at A$57.45 in Sydney. The Mongolian government owns the remaining 34 percent.
'Mine-Golia'
The phase two expansion could help fuel a new boom for a country that has been dubbed "Mine-Golia" because of its abundance of mineral deposits, including coal.
The underground mine, where 80 percent of Oyu Tolgoi's mineral wealth lies, is expected to cost $5.4 billion to build, funded mostly from a $4 billion project finance package supported by over a dozen global banks.
Additional steps include approval of the underground feasibility study and project financing, as well as obtaining all necessary permits, according to the Turquoise Hill statement.
"When all steps and approvals on the path forward have been reached, the underground workforce will be remobilized," according to the Turquoise Hill statement.
Work on the underground mine stalled in mid-2013, causing around 1,700 layoffs and an oftentimes bitter public dispute between the government and Rio.
Tax Dispute
The mine plan, as the document is also known, confirms the construction cost of the first phase of the mine. Cost overruns in the initial phase were one of the main points of dispute between Rio and the Mongolian government, with each side claiming different figures.
The plan also resolves a tax dispute between the two parties, with Rio agreeing to pay $30 million in tax, a figure reduced from an original charge of $127 million.
Calling Oyu Tolgoi a "guiding project," Saikhanbileg said other deals will soon follow.
"We need this kind of positive news. Now the real investments and partners are here in Mongolia and we invite everyone to follow in Rio Tinto's' path."
The Middle East is the first leg of a multi-regional investment road show by the government, that is also expected to include Europe, East Asia and North America.
Oyu Tolgoi is expected to produce as much as 195,000 metric tons of copper and up to 700,000 ounces of gold in concentrates in 2015, Turquoise Hill said April 20.
Before it's here, it's on the Bloomberg Terminal.
LEARN MORE