Oxford University Limits Its Fossil Fuel Investments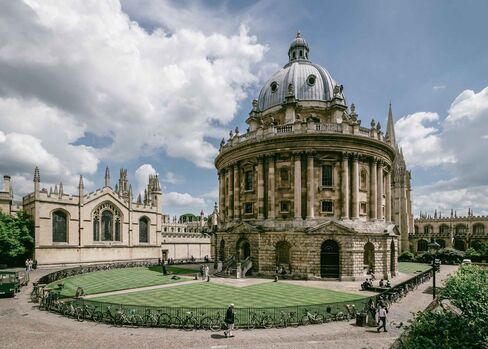 Oxford University said it would curb some of the most polluting fossil fuel-related investments in its 1.7 billion-pound ($2.7 billion) endowment, making it the most prominent institution to join the growing campaign for divestment from the industry.
The university's governing board said it will avoid direct investments in coal and oil sands companies, of which it currently has none, and that it will also steer clear of sectors with high social and environmental risks, according to a statement released by its spokesman on Monday.
Oxford, the oldest university in the English-speaking world, gives weight to a movement waged by environmentalists led by Bill McKibben, who are attempting to stigmatize the industries they blame for causing global warming. While the money at stake is small, Oxford's voice adds authority to a cause joined by church and student groups.
"We're celebrating this as a significant victory, but it doesn't go far enough," Miriam Wilson, campaign coordinator of the lobby group Fossil Free, said by phone. "This is the first time that Oxford has made any public statement on whether they invest in coal and tar sands. We will continue to pressure the university to divest all its fossil fuel investments."
Oxford's Position
About 3 percent of Oxford's endowment is invested in the energy business, mainly through funds. The university said it will keep investing in the energy business, stopping short of the ban on any fossil fuels in the fund. It will make what it does own more clear in its annual report due next month.
"Oxford University is already a leading force in the global fight against climate change, principally through outstanding research which influences technological development, business practice and policy formation around the world," Vice-Chancellor Andrew Hamilton said in a statement. "Our investment managers take a long-term view and take into account global risks, including climate change."
The 200 institutions that have agreed to scale back on investing in polluting industries have assets of more than $50 billion, according to the environmental group 350.org led by McKibben.
'Greatest University'
"Oxford may be the greatest university on our planet, and if anyone thought its great age might keep it from shaping the future, this decision should prove them wrong," McKibben said in a statement on 350.org's website. "Today it has offered great leadership on the crisis of our time."
Those include non-academic institutions such as the British Medical Association and the Church of England. Pope Francis's decision to release an encyclical this summer covering the Catholic church's policy on climate change has added a moral dimension to the debate.
While the funds directly held in the fossil-fuel companies are small, those that have divested have given the campaign momentum and publicity, putting the issue on the agenda of policy makers everywhere.
The campaign has provided a sense of movement to the three-decade-old effort to rein in greenhouse gases as the United Nations works this year to bring together more than 190 nations in a historic deal to limit emissions everywhere for the first time. Universities have become a focal point of the campaign because student activists can influence their governing boards.
In Britain and the U.S., educational institutions have about $393 billion invested in financial securities through their endowments, including about $10 billion linked to the fossil fuel industry, according to a 2013 study by the Smith School of Enterprise and the Environment at Oxford University.
U.S. Universities
Harvard and Yale universities, which have the richest endowments, have rejected divestment as a strategy. Harvard President Drew Faust said in October 2013 that divesting could endanger the financial well-being of the institution and position it as a political actor rather than an academic institution. Harvard has an endowment of about $36.4 billion.
"I believe we should favor engagement over withdrawal," Faust wrote to students at the time. "In the case of fossil-fuel companies, we should think about how we might use our voice not to ostracize such companies but to encourage them to be a positive force both in meeting society's long-term energy needs while addressing pressing environmental imperatives."
While the direct impact of U.K. universities divesting from oil companies is small, divestment "is likely to lead to a change in market norms" with private-sector investment funds and lending institutions shunning companies that mine fossil fuels, according to the Smith School report.
Divestment Foothold
Typically, the report said, divestment campaigns gain a foothold first in religious groups and public interest bodies, such as health organizations, before moving into universities and then the wider investing community.
"The maximum possible capital that might be divested from the fossil fuel companies represents a relatively small pool of funds," the report said.
Students in Oxford raised the issue with the university last year, backed by the pressure group Fossil Free, Guardian newspaper environmental columnist George Monbiot, and Jeremy Leggett, founder of the photovoltaic panel installer Solarcentury Holdings Ltd. Oxford's board considered the matter in March and sought more time to consider it, resulting in Monday's decision.
'Ethical Investment'
"In the meeting, where I argued for this decision, it was clear to all that the case for ethical investment that considers the environmental impact of financial decisions is becoming stronger," said Louis Trup, president of the Oxford Student Union. "I hope this decision encourages other institutions to divest from fossil fuels"
The campaigners are seeking to replicate the success of anti-apartheid campaigners in the 1980s, who used divestment as a way of pressuring apartheid South Africa to end state-sanctioned discrimination.
At Oxford, the governing council includes the Vice-Chancellor Hamilton along with other representatives from the faculty and its associated colleges. The council is the trustee of funds managed by Oxford University Endowment Management Ltd., a subsidiary of the school that manages money for 22 colleges and five charities.
It had to balance student demands against the structure of the fund and Oxford's relationship with oil companies, which has deepened since 2010 as the Prime Minister David Cameron's government slashed spending for education in the U.K.
Royal Dutch Shell Plc, Europe's largest oil company, spent about 6 million pounds on a geoscience laboratory at Oxford that opened last year. Chevron Corp., Total SA, Eni SpA and Brazil's state-owned oil giant Petroleo Brasileiro SA, known as Petrobras, also sponsor programs at Oxford.
BP Plc supports several college and university-wide societies at Oxford, typically in return for the clubs advertising internship and graduate recruitment opportunities to student members. In February, the university's Lesbian, Gay, Bisexual, Transgender and Questioning Society decided not to ask London-based BP to renew its sponsorship.
Before it's here, it's on the Bloomberg Terminal.
LEARN MORE