Nigeria to Hold Key Interest Rate Before Incoming Government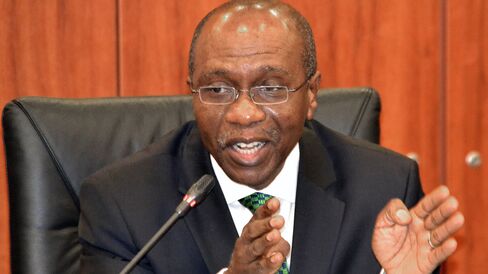 Nigeria's central bank will probably keep its benchmark interest rate unchanged at a record high at its final policy meeting before President-elect Muhammadu Buhari takes office.
The Monetary Policy Committee will retain the rate at 13 percent, according to 21 of 22 economists surveyed by Bloomberg. Chernay Johnson of CS Securities Joburg Ltd. predicted a 100 basis-point increase. Governor Godwin Emefiele is due to announce the decision at a press conference scheduled to begin at 2 p.m. on Tuesday in the capital, Abuja.
"It's a week before the inauguration of a new administration," Yvonne Mhango, an economist at Renaissance Capital, said by phone from Johannesburg. "The monetary authorities would like to be aware of what it has planned, particularly on the fiscal front, before making any policy decisions."
Buhari, 72, takes over as leader of Africa's biggest oil producer and most populous nation on May 29 following an almost 40 percent slump in the price of crude in the past year that's forced the government to curb spending. Finance Minister Ngozi Okonjo-Iweala said on May 5 that a "cash-flow crunch" prompted authorities to borrow more than half the amount it budgeted for the full year already.
Nigeria depends on oil exports for more than two-thirds of government revenue. Last month, outgoing lawmakers approved a 2015 budget of 4.49 trillion naira ($22.6 billion), down 4.5 percent from last year's spending plan.
Inflation Target
Emefiele, 53, raised the benchmark rate by 1 percentage point in November and devalued the naira as falling oil prices eroded foreign-exchange reserves needed to maintain the currency peg. Inflation has accelerated since then, reaching 8.7 percent in April, close to the top of the bank's 6 percent to 9 percent target band.
Policy makers should raise the interest rate to 15 percent in order to fight inflation, while allowing the naira to fall to about 220 to the dollar, Oyin Anubi and Turker Hamzaoglu, economists at Bank of America Merrill Lynch, said in a May 13 report. Those changes are unlikely this month, they said.
The naira has dropped 8.3 percent against the dollar on the interbank market this year and was trading at 199 as of 12 p.m. in Lagos, the commercial capital.
Investors are looking to the central bank to ease restrictions on foreign-exchange trading, according to Dapo Olagunju, treasurer at Lagos-based Access Bank Plc. The central bank introduced a new dealing system in February that stops lenders buying dollars on the interbank market without matching orders from import customers.
"A hike in rates and FX flexibility are the two things the market, both local and international investors, would like," Olagunju said by phone.
Before it's here, it's on the Bloomberg Terminal.
LEARN MORE