Javid to Cut U.K. Regulation and Help Businesses Pursue Payment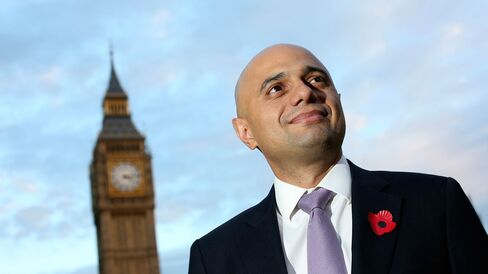 U.K. Business Secretary Sajid Javid will pledge to reduce regulation and make it easier for small companies to claim money they're owed as he promises an Enterprise Bill will be included in the government's legislative program.
Javid, scheduled to speak in Bristol on Tuesday, will committ to extending the government's deregulation program to about 60 independent regulators, including the Office of Fair Trading and the Food Standards Agency, according to an e-mailed statement from the Department for Business. He'll say that the Enterprise Bill, to be announced in the Queen's Speech on May 27, will create a Small Business Conciliation Service to deal with disputes over payments between companies.
The reduction in as-yet-unidentified regulations will save businesses 10 billion pounds ($16 billion) by 2020, according to the statement.
"Small businesses are Britain's engine room," Javid said. "As Business Secretary I will always back them."
Before it's here, it's on the Bloomberg Terminal.
LEARN MORE