Honeywell Open to Water, Health Care in 'Full' M&A Pipeline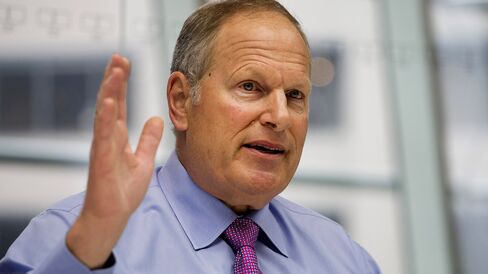 Honeywell International Inc. Chief Executive Officer Dave Cote is open to considering acquisitions in water and health care, both potential new business lines, as he examines a pipeline of more than 100 possible deals.
"There are a couple of industries I've always been intrigued with -- water and medical being two of them," Cote said in an interview at Bloomberg's New York headquarters. "I would never say never on any of that. I'd have to find a spot where I'd say, 'OK, we can make this better.'"
Cote's willingness to explore fields new to Honeywell shows his pursuit of a five-year goal set in 2014 to spend $10 billion on takeovers, about double the tally in the prior half decade. The maker of thermostats and aircraft electronics sits on a record cash pile of $9.1 billion and last made a $1 billion-plus purchase in 2010, according to data compiled by Bloomberg.
Honeywell has a team of 50 executives working exclusively on finding and vetting possible purchases, Cote said. He said he holds meetings every six weeks to discuss "high-probability" candidates.
"We have a very full pipeline right now," said Cote, 62, who named a new acquisitions chief, Vice Chairman Roger Fradin, last year as part of his biggest management shakeup since becoming CEO in 2002.
Honeywell wants to deploy a growing cash hoard while shareholders push for buybacks and dividends. The lone acquisition announced since the $10 billion strategy was set: a $185 million agreement in December to purchase Dover Corp.'s Datamax-O'Neil unit.
Assessing Odds
Cote said he's mostly looking in industries similar to where Honeywell operates now, which include energy and automation besides aerospace, chemicals and climate controls. He would branch out only for a compelling target, he said.
"I always want to make sure the odds are in our favor when doing something like that," he said.
Honeywell told investors in a March presentation that it had made 80 acquisitions under Cote, averaging $170 million. The Morris Township, New Jersey-based company expanded into new product groups such as gas detection and safety equipment that served similar construction customers, Cote said.
That's a successful formula, said Jeff Fahrenbruch, a fund manager with Dallas-based Barrow Hanley Mewhinney & Straus LLC, which manages about $100 billion including about $1.37 billion of Honeywell shares. Fahrenbruch said he would welcome more "bolt-on" acquisitions as opposed to having Honeywell risk overpaying for a large company in a new industry.
Investor Caution
"The type of acquisition that really worries me is buying a brand-new business and creating a new strategy," Fahrenbruch said. "Those tend not to work."
The stock has beaten the Standard & Poor's 500 Industrials Index in 2015, during the past 12 months and over the past five years. The shares were little changed at $106.77 at the close in New York after ending Friday at $106.85, the highest price in data compiled by Bloomberg dating to 1985.
At the same time, a projected 2015 price-earnings ratio of 17.55 lags behind the 18.13 average of the 65 companies in the S&P 500 Industrials, according to data compiled by Bloomberg.
Cote said he won't relax his financial criteria for acquisitions, which include cost savings of at least 6 percent of the target's sales and an earnings boost in the second year. Analysts who now decry the standards as too strict in an era of low interest rates and high valuations, he said, had complained a decade ago that they were too lax.
'Very Circumspect'
"We're going to be very circumspect when it comes to what are we going to pay for some of these things," Cote said. "Some of the multiples that I see are required to get a deal done just don't make sense."
That high bar will close the door on many takeovers, said Karen Ubelhart, an analyst with Bloomberg Intelligence.
"Cote's just not going to feel the pressure to do something," Ubelhart said. "He's a conservative guy."
Danaher Corp. said it had to lower the bar with the May 13 agreement to buy Pall Corp. for $13.8 billion. Danaher offered to pay more than 22 times earnings before interest, taxes, depreciation and amortization, compared with 17 times to acquire Nobel Biocare Holding AG in December, according to data compiled by Bloomberg.
Cote isn't a big fan of repurchasing shares as a use for excess cash. About 80 percent of companies do so at the wrong time, including Honeywell, he said. Honeywell bought back stock in 2007 at $53 a share before the price sank to an average of $34 in 2009. The next buying opportunity, he said, would come in another recession -- a prospect that he doesn't foresee for three to four years.
"If I owned 60 percent of the company so I could do what I want, I would let the cash build," he said. "I would wait for that time and I would buy a bunch of shares."
Cote said also he prefers a buyback to overpaying for an acquisition. Having cash pile up is a good problem to have, he said.
"I'm not going to do anything stupid," he said. "We've come too far to do something silly today."
Before it's here, it's on the Bloomberg Terminal.
LEARN MORE