Emanuel Begins Second Term With Chicago on Financial Edge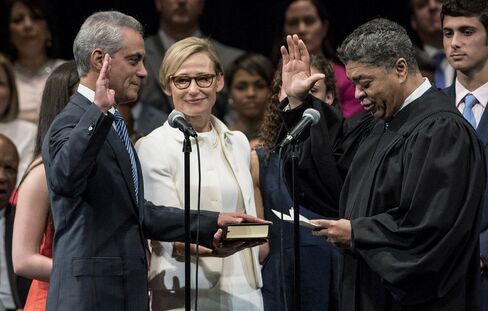 Mayor Rahm Emanuel began his second term as Chicago's chief executive Monday facing a deepening financial crisis from $20 billion in pension obligations that threaten the city's solvency.
The pomp of the swearing-in, held in the ornate downtown Chicago Theatre as his one-time boss, former President Bill Clinton, looked on, masked the gravity of the city's plight. Moody's Investors Service dropped Chicago's debt rating to junk status last week, putting it in the same credit category as Detroit, which emerged from bankruptcy in December.
"While we address these challenges from the past head-on, I will not lose sight nor the will to continue to build a stronger future," Emanuel told an audience that included his predecessor, Mayor Richard M. Daley, whose administration's pension debts Emanuel inherited.
The nation's third-most-populous city has suffered several setbacks since Emanuel, 55, won a second term in an April 7 runoff. First came news that federal authorities are investigating ties between his hand-picked chief of Chicago Public Schools, Barbara Byrd-Bennett, and a no-bid contract for principal training involving her former employer.
Then came Moody's and two other downgrades after the Illinois Supreme Court overturned a 2013 pension overhaul. The ruling "raises the risk that the statute governing Chicago's Municipal and Laborer pension plans will eventually be overturned," the Moody's report said. "As the plans move toward insolvency, the city's credit standing will continue to deteriorate."
Chicago is on the hook to pay an additional $600 million into its pensions next year, and an overhaul that lawmakers passed for two of the city's four plans is now in doubt. The legislature must approve any changes to Chicago's pensions.
Emanuel has said raising property taxes, the city's biggest general-revenue source, would be a "last resort."
Before it's here, it's on the Bloomberg Terminal.
LEARN MORE