Bank Settlements Cuomo Sent to Thruway Mean No Bonds in 2015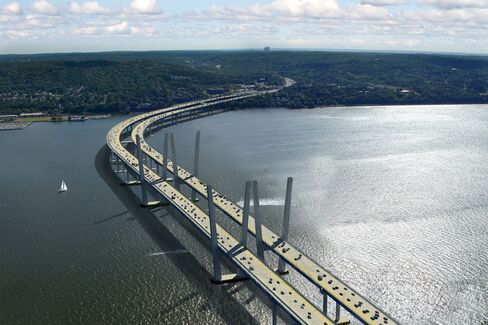 The New York Thruway Authority, flush with a $1.3 billion cash infusion from Governor Andrew Cuomo's budget, wouldn't issue debt this year for the first time since at least 2011, according to a mid-year modification approved by its board on Monday.
The change would cut spending by 8 percent, or about $163 million, including a $44 million reduction in debt-service costs. In December, the authority approved a 2015 spending plan that had a $25 million gap.
The agency this year is spending $910 million on the $4 billion replacement for the Tappan Zee Bridge across the Hudson River. Using funds from the state's almost $6 billion in legal settlements with Wall Street banks, Cuomo included the $1.3 billion infusion in his budget approved in March.
"After a relatively short amount of time, basically a three-month period, we've basically gotten the authority's books in order," Robert Megna, the authority's director since the beginning of 2015, said at the meeting in Albany. Megna served as Cuomo's budget chief for the previous four years.
The shift away from issuing bonds this year is a boon to the troubled agency, which has an almost $5 billion debt load that's expected to grow to pay for the new span. In November, Standard & Poor's said it may cut the authority's rating if it doesn't maintain debt-service coverage and liquidity. In 2013, S&P lowered the authority one step to A, the sixth-highest grade, citing the lack of a plan to pay for the Tappan Zee replacement and associated debt that could overload the agency.
Cuomo has been trying to keep the Thruway Authority from becoming a political liability. After business groups blasted a proposed toll increase for trucks in 2012, he found a way to avoid it by having the state pay for policing the 570-mile (917-kilometer) road. He avoided another increase this year by directing the legal-settlement funds to the authority.
Before it's here, it's on the Bloomberg Terminal.
LEARN MORE