Analyst: The Economy Might Just Need 55,000 New Jobs Per Month to Keep Reducing Labor Force Slack
The pace of job creation could slow dramatically, and the unemployment rate could still stay low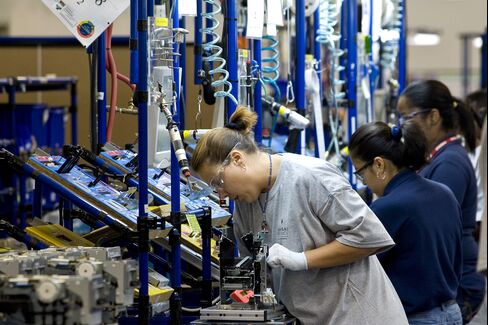 Macquarie analyst David Doyle thinks the U.S. economy doesn't need to add too many jobs for the unemployment rate to keep moving downwards.
He suggests that as few as 55,000 jobs will be needed to keep up with his projection of labor force growth and eat into slack, assuming that a stronger economy doesn't prompt formerly discouraged workers to re-enter the work force: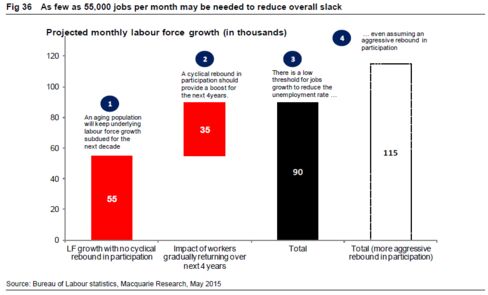 The U.S. economy has added an average of 188,500 jobs per month over the past five years, and hasn't had a month in which non-farm payrolls increased by less than 55,000 since June 2012.
The analyst's estimate of how many jobs might be needed to reduce labor slack is in the same ballpark as one published in a working paper by economists at the Federal Reserve Board.
Due to a continued decline in the headline labor force participation rate, "over the next decade somewhere between 50,000 and 75,000 jobs per month will be needed to maintain an unchanged unemployment rate, well less than the amount needed in the 1990s."
Doyle believes nearly 80 percent of the decline in the labor force participation rate can be explained by structural factors – the aging population and the increased tendency for youths to pursue post-secondary education – with the remainder due to continued cyclical weakness.
The relatively small amount of net job growth required to reduce the unemployment rate is a mixed blessing, however – it's a recognition that the aging population and subsequent drop-outs from the labor force will weigh on total hours worked, and in turn, the economy's potential growth rate.
If the U.S. economy continues to create jobs at the same pace it has for the past twelve months, Doyle thinks full employment will be achieved within a year.
Before it's here, it's on the Bloomberg Terminal.
LEARN MORE