All-Female Sailing Team Breaks Barriers in Around-The-World Race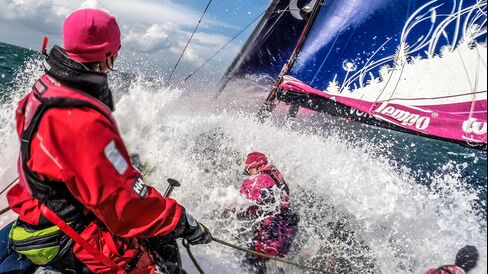 Sara Hastreiter knows tough, once climbing Tanzania's Mount Kilimanjaro -- the highest free-standing mountain in the world -- a week after recovering from malaria. What she's doing now may be her biggest challenge.
Hastreiter is one of 13 female sailors competing for Team SCA in the Volvo Ocean Race, a nine-month, around-the-world journey that covers 38,739 nautical miles (71,745 kilometers). The race started in Alicante, Spain, in October and ends next month in Gothenburg, Sweden, the last of 11 ports. The lone U.S. stop ended Sunday, when the six 65-foot sailboats left Newport, Rhode Island, for the 2,800-mile trip to Lisbon.
In addition to demands brought on by the length of the race, which is held every three years, participants face heat and cold, seasickness and the task of building relationships with teammates. Even with the challenges, Hastreiter, 30, said she's sad the finish is drawing closer for Team SCA, the second all-female crew to compete in the 42-year-old race.
"I don't think we could ever describe how appreciative we are that this opportunity is there for us," Hastreiter said in an interview three weeks ago after sailing a TP52 racing yacht off Manhattan. "We're going to finish this and be wandering around again in the world of sailing not directly open for us as females. We're going to have to break down barriers and get in with the men again."
The backing for the team was provided by SCA Group, a global hygiene product company headquartered in Stockholm. While many of its brands aren't well-known to U.S. consumers, SCA supplies about 50 percent of all napkins used outside of homes. "We're all over the place, but a little under the radar," said SCA of Americas President Don Lewis.
Female Consumers
The company, which also supplies baby diapers and feminine care products, says 80 percent of its consumers are women, though the majority of U.S. sales are business-to-business. Lewis declined to say how much SCA spent on the team, though he called it "economical," at less than 5 percent of the company's marketing budget.
"The race allowed us a platform to get visibility across the globe for our brands, but also to highlight the strength of women," Lewis said by telephone.
The SCA team has sailors from six nations, ages 28 to 42, and includes three former Olympians and the only woman to have sailed solo around the world -- both east and west.
"The women I sail with are really dynamic, incredibly intelligent and extremely driven," said Hastreiter, who grew up in landlocked Wyoming and first sailed on a day-charter catamaran in the Caribbean in 2008.
Nine Legs
There are nine legs in the race, the most recent an 18-day run from Itajai, Brazil, to Newport that spanned 5,800 miles and included the boats outrunning a cold front and fighting through seaweed that clogged rudders. The teams were off for 11 days before beginning the seventh leg across the Atlantic.
The race presents obstacles beyond its length: boat damage, injuries, rough weather and sickness. There's also unanticipated dangers: floating debris off China, flying fish that prompted some sailors to wear hard hats and racing through thousands of unlit fishing boats at night off the Vietnamese coast.
"The conditions and stresses are huge and multifaceted," said Dawn Riley, who was on the first all-women's team in the around-the-world race in 1989-90. Riley, the first woman to manage an America's Cup syndicate, has been executive director of the Oakcliff Sailing Center in Oyster Bay, New York, for the past 5 1/2 years. She said comparisons between the Volvo Ocean Race and climbing 29,029-foot (8,516-meter) Mount Everest are valid.
"The Volvo takes a lot longer than a climb up Everest and you're very seldom 'off,'" said Riley, 50, a former president of the Women's Sports Foundation. "It is the Everest of sailing, but longer, hotter, sweatier and colder."
China Seasickness
Elodie Mettraux, who quit a job managing a Geneva sailing center to join Team SCA, said her worst stretch was three days of seasickness outside Sanya, China.
"Sometimes you're like, 'What the (heck) are you doing out here?,'" said Mettraux, who as a sailor opted for saltier language. "I remember saying to my dad, 'Why can't I do something more quiet?' Then the sun rises, you see phosphorescent plankton in the waves, or 50 or more dolphins going past the boat. It's amazing."
Team SCA's crew was picked from more than 400 applicants. While the team has accomplished sailors, the results haven't been what the crew hoped. Team SCA sits last among the six boats remaining and hasn't finished better than fifth in any leg. Abu Dhabi Ocean Racing is the overall leader.
Disappointing Performance
"It's disappointing because I know women can sail as fast as men," Riley said. "Especially because they had funding early, I thought they'd be a strong contender."
Hastreiter said the crew expects more and hopes to improve at they approach the end with mixed emotions.
"There will be a small part of me that like 'Thank God,' but I'll definitely be sad when it's over," she said. "At the end, it just ends; you can't believe you've been together for two years and everyone goes back to their lives."
Before it's here, it's on the Bloomberg Terminal.
LEARN MORE