N.Z. Government Follows RBNZ With Measures to Quell Housing Boom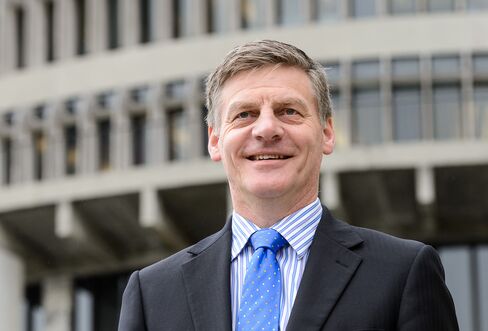 New Zealand's government said it will tighten tax rules on residential property, acting in tandem with the central bank to arrest Auckland's housing boom.
From Oct. 1, gains on residential property sold within two years of purchase will be taxed unless it is the seller's main home, inherited from a deceased estate or transferred as part of a relationship property settlement, Finance Minister Bill English said in an e-mailed statement on Sunday. Non-resident buyers must have a New Zealand bank account and Inland Revenue tax identification number.
The measures "will help Inland Revenue enforce existing tax rules, provide it with extra resources and ensure that property investors pay their fair share of tax -- whether they're from New Zealand or overseas," English said. This is "expected to take some of the heat out of Auckland's housing market and sit alongside the Reserve Bank's latest moves to address associated financial stability issues," he said.
The Reserve Bank of New Zealand said last week it will require residential property investors in Auckland to make a minimum down payment of 30 percent to qualify for a mortgage, also effective Oct. 1. House prices in the nation's largest city jumped 16.9 percent from a year earlier in March compared to 3.2 percent in the rest of the country, posing a risk to financial stability, the RBNZ said.
Overseas Speculators
Surging prices in Auckland, home to a third of New Zealand's 4.5 million people, have prompted debate about the role of speculators, including overseas investors. While capital gains on property bought for investment purposes are taxable in New Zealand, the rules are not rigorously applied.
English said today a new "bright line" test will be introduced for non-residents and New Zealanders buying residential property, to supplement Inland Revenue's current "intentions" test.
To further ensure overseas property buyers meet both existing tax requirements and those of the new test, the government will investigate introducing a withholding tax for non-residents selling residential property from mid-2016, he said.
Measures to curb house-price gains in Auckland may give the central bank more scope to lower interest rates later this year. The New Zealand dollar fell on April 30 when RBNZ Governor Graeme Wheeler said it would be appropriate to lower the benchmark rate from 3.5 percent if demand weakens and low headline inflation starts to damp wage and price-setting behavior.
Before it's here, it's on the Bloomberg Terminal.
LEARN MORE