Lowe Says RBA Retains Rate-Cut Scope, Warns on Debt-Fueled Boom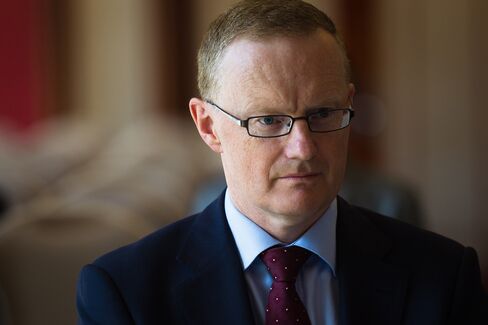 Australia retains scope to lower interest rates further, the central bank's second in command said, while warning against spurring a debt-fueled spending boom.
"There is a fairly fine line to tread" in balancing the need to encourage household spending and business investment while preventing imbalances emerging in the economy, Deputy Governor Philip Lowe said in Sydney Monday. Australia has been trying to engineer a transition from mining since late 2011 when investment and commodity prices peaked.
Responding to an audience question on the policy outlook after his speech, Lowe said "nothing has changed" despite the central bank not having provided future guidance when it cut rates to a record-low 2 percent on May 5. "We still have scope to lower interest rates if we need to. That doesn't mean we're going to, but we have scope to do that," Lowe said.
The Australian dollar fell after the remark and traded at 80.08 U.S. cents at 11:58 a.m. in Sydney from 80.33 cents before Lowe's speech.
Stephen Walters, chief economist for Australia at JPMorgan Chase & Co., said the comments should "settle the debate from two weeks ago about whether the bank has an easing bias or not. It does!"
Australian policy makers are wary of fueling more borrowing among households that already carry a record debt of 153.8 percent of income while wage growth languishes. Meanwhile, house prices in Sydney have jumped 40 percent in the past three years.
Consumption Boom
It is "unlikely to be in Australia's long-term interests to engineer a consumption boom by encouraging people to borrow large amounts against future income," Lowe told an audience of chief financial officers. "This is especially so when debt levels are already high and prospects for future income growth are not as positive as they once were. So, there is a fairly fine line to tread here."
Lowe said the "critical ingredient" to increasing economic growth above its current 2.5 percent pace is investment by firms outside the resource industry, an outcome that "still seems some way off." That contrasts Treasury's forecast in budget papers released last week that spending by firms would rise 4 percent in the year through June 2016 and 7.5 percent the following year.
Lowe said firms have told the RBA that demand hasn't picked up enough to warrant further investment. Also, the rates of return they require to invest haven't fallen in line with low interest rates and an Australian survey found those so-called hurdle rates for investment "are typically above 10 percent and sometimes considerably so."
In a world of persistently low rates, the hurdle rate of return probably should be lower than it used to be, he said.
Currency Conundrum
Lowe recounted a familiar story of global easing impeding a further decline in Australia's currency needed to aid the economy's rebalancing.
Underscoring the difficulties the central bank is facing in gaining traction for its economic transition, Lowe said that non-mining business investment as a share of gross domestic product "remains just above the levels reached in the recession of the early 1990s." Still, he noted that the increased volume of mining and liquefied natural gas shipments would support the economy in the years ahead.
"Growth in resource exports has contributed around 1 percentage point to annual GDP growth over recent years, and this is expected to continue into the foreseeable future, particularly as more LNG projects come on line," he said.
Australia's labor market is benefiting from a slowdown in wages growth that cooled to 2.3 percent in the first three months of 2015 from a year earlier, the weakest pace since records began in the late 1990s. Lowe said it was "notable" that in the past nine months unemployment was "broadly steady" even as economic growth remained below average.
Jobs, Growth
The jobless rate was 6.2 percent in April and Australia's potential growth rate is about 3 percent. The RBA will release minutes of this month's rate decision in Sydney tomorrow.
Lowe also commented on the global environment of an extended period of easy policy, saying he believed that in time interest rates will normalize.
"But it also seems plausible that the average return on savings, at least for a protracted period, will be lower than it had been previously," he said. "The population in many countries is ageing, aggregate household indebtedness is high and many of the service industries that are growing relatively quickly are not particularly intensive in physical capital. Taken together, these trends might be expected to boost the desire to save relative to invest and thus lead to a structurally lower level of global interest rates than otherwise."
Before it's here, it's on the Bloomberg Terminal.
LEARN MORE