Egypt Tightens Security After Mursi Sentence Sparks Attacks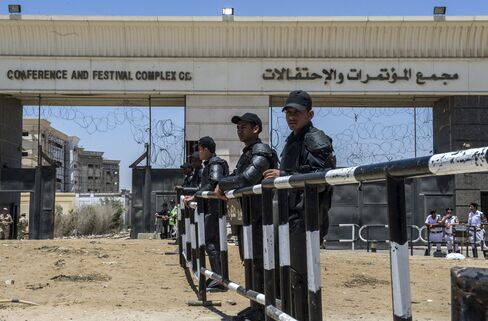 Egyptian authorities bolstered security around key installations as a preliminary death sentence against former Islamist President Mohamed Mursi and more than 100 other people sparked attacks against the judiciary.
Hours after a Cairo criminal court issued the sentence against Mursi on Saturday, unidentified gunmen shot three judges dead in the city of El-Arish in the north of the Sinai Peninsula, state media reported. Mursi supporters from the outlawed Muslim Brotherhood also set fire to a court in Sadat City, about 90 kilometers (56 miles) northwest of Cairo, state-run website Ahram Gate reported.
An improvised bomb also exploded outside a courthouse in the Upper Egyptian city of Assiut late yesterday, wounding a police officer, while another exploded today in the Suez Canal city of Port Said, wounding an officer, authorities said.
The verdict raises tension in a country mired in unrest and struggling to revive its economy since the military ousted Mursi in 2013, a year after he became Egypt's first freely elected civilian president. International rights groups, which say President Abdel-Fattah El-Sisi is curbing freedoms, denounced the ruling, and Brotherhood leaders urged their followers to stand firm against the government.
"This coup will fall," Salah Abdel-Maksoud, who served as information minister under Mursi, said on Al-Jazeera. He urged people "Confront the coup using peaceful means."
Popular Demands
The military says Mursi was toppled in response to popular demands to end his rule. Since the ouster, authorities have waged a sweeping crackdown on the Brotherhood and its backers, killing hundreds and arresting and charging thousands more. A number of mass death sentences have been handed down, although many have been commuted.
Prison officials said that six members of Ansar Beit al-Maqdis, an extremist movement that pledged allegiance to Islamic State, were hanged, Ahram Gate reported on Sunday. Government authorities blame the group, along with the Brotherhood, for attacks on security forces in north Sinai.
Mursi and other Brotherhood leaders face a long string of charges. He was sentenced last month to 20 years in prison in connection with violence near the presidential palace during a protest against his rule. He remains on trial for other charges including insulting the judiciary and spying for Qatar.
'Painful Period'
The benchmark EGX 30 Index of equities fell 0.5 percent at 3 p.m., and is down 7.5 percent this year.
Following the attack on the three judges in El-Arish, authorities moved a court there to the Suez Canal city of Ismailia. More than 100 other Islamists were also given the death penalty on Saturday, including prominent Qatar-based Egyptian cleric Yusuf al-Qaradawi, who is widely viewed as the Brotherhood's spiritual leader.
The sentences were handed down for two cases -- one dealing with a prison break during the 2011 uprising that pushed President Hosni Mubarak from power and the second for collaborating with foreign groups to destabilize the nation.
"They say I have provoked," al-Qaradawi said on Al-Jazeera. "I provoked people to revolt. It's the right of the people to stage a revolution."
The verdicts drew condemnation from abroad.
"A disdainful, painful period that happened in Turkey 55 years ago is now being repeated in Egypt," Turkish Prime Minister Ahmet Davutoglu was quoted by Anadolu news service as saying, referring to the bloody 1960 military coup in his country. Turkey had backed Mursi, along with Qatar.
Some of those sentenced in the Cairo court were members of Hamas, the Palestinian militant group that rules Gaza. The group said on its official website that some of the convicted were dead before the 2011 uprising in Egypt, while others are currently in Israeli prisons.
Egypt's State Information Service defended the government against its detractors, saying in an e-mailed statement the criticism reflected "ignorance and lack of accuracy." The service said the verdicts are not final and can be appealed.
Before it's here, it's on the Bloomberg Terminal.
LEARN MORE