Cameron Clarity Puts Carney on Course for New BOE Fractures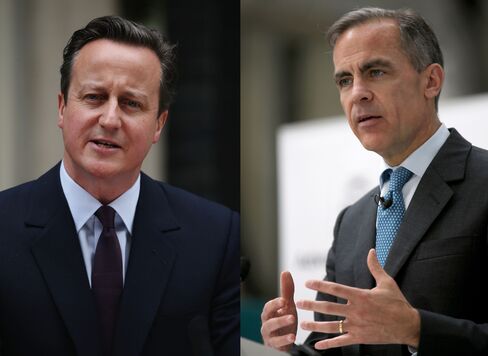 Prime Minister David Cameron's election victory means Bank of England policy makers can get back to disagreeing with each other again.
Minutes of the BOE's latest meeting to be published on Wednesday will shed light on how Governor Mark Carney and colleagues on the Monetary Policy Committee are digesting a weaker outlook for productivity, coupled with a strengthening pound and a pickup in wage growth. They'll also have new numbers on inflation, retail sales and manufacturing.
While consumer-price growth is stagnant and the BOE this month cut its economic forecasts, Carney expects inflation will accelerate at the end of the year. With the cloud of doubt surrounding this month's general election out of the way, a split among policy makers on price risks may re-emerge after unanimity so far this year.
"Dissent is only going to increase from here and the first split could come next month," said David Tinsley, an economist at UBS AG in London. If there are "any signs that the fading in election uncertainty is leading to a strengthening in activity, then we could get back in a position where rate rises earlier than the market expects are back on the cards."
In the BOE's Inflation Report last week, Carney endorsed investors' expectations that the central bank may not start increasing its benchmark interest rate until the middle of next year. The rate has been at a record-low 0.5 percent for more than six years.
Inflation Outlook
Inflation probably remained at zero in April, according to the median forecast of economists surveyed by Bloomberg before data tomorrow. There's an increasing chance of a negative rate, however, with 11 of 35 economists forecasting an annual price decline, more than last month.
A day later, the BOE will publish the minutes of the MPC's May 7-8 meeting. While the nine-member panel was probably unanimous, two members -- Martin Weale and Ian McCafferty -- have described their recent decisions as "finely balanced."
Also due are reports on manufacturing orders for this month, as well as detail on government public finances and retail sales for April. The latter will provide insight into growth at the start of this quarter after it slowed in the three months through March. Carney said the expansion is set to re-accelerate following that weakness, partly because of a boost to real incomes from weak price growth.
Consumer Windfall
"There'd been signs recently that consumers are not spending all of the windfall from the drop in inflation and petrol prices," said Sam Tombs, an economist at Capital Economics Ltd. in London. "They may have been cautious. It's a matter of timing and we will see a pickup. Consumers have a lot of confidence."
With the recovery showing momentum, the pound has increased 6.6 percent on a trade weighted basis in the past six months and is close to the strongest level in almost seven years. Sterling fell 0.3 percent from Friday against the dollar, and traded at $1.5682 as of 12:22 p.m. London time.
One question hanging over the recovery is the weakness of productivity. In its Inflation Report, the BOE cut its forecast by how much it will grow this year and said it will stay below its historic average.
While officials agree that productivity is key to the outlook for wages, they are mystified as to the exact cause of the weakness and are debating the extent to which it could push up inflation. Carney said last week the timing and extent of any pick-up in productivity growth is the MPC's "most difficult judgment."
"It may not take all that long for dissent to re-emerge," said Philip Shaw, an economist at Investec Securities in London. "Two members have been saying they think it's finely balanced. If we see momentum in the economy continue to build, and signs inflation will rise to target, it's possible that one or both start voting for a rate increase."
Before it's here, it's on the Bloomberg Terminal.
LEARN MORE