Biggest Danish Mortgage Bank to Test New Debt Amid Bond Selloff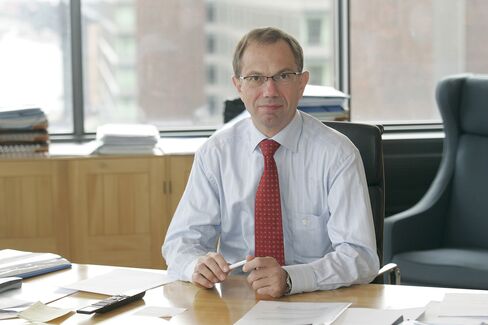 Denmark's biggest mortgage bank, Nykredit Realkredit A/S, is planning to test a new kind of debt it says will probably improve its rating.
The bank wants to try to sell bonds designed to have a so-called additional loss-absorbing capacity, or ALAC, as Standard & Poor's introduces the characteristic into its ratings assessments. The company last week put Nykredit on creditwatch negative on concern the lender may no longer enjoy the same degree of government support it once did.
Issuing bonds in the current market environment requires a bit of gumption, following three weeks of slumping prices. As investors question whether low, and in some cases negative, interest rates might be leading them into a bubble, yields have jumped. Denmark's 10-year benchmark government bond, which yielded as little as 0.2 percent in February, was trading close to 1 percent last week.
"It is volatility that comes from the market deciding how to assess both the ECB initiatives and how to assess the fact that there seems to be European growth coming and a little inflation," Soeren Holm, chief financial officer at Nykredit, said in a phone interview. "We do expect that we will be using the new ALAC framework in order to increase our rating."
Hybrid Bonds
Additional loss-absorbing capacity may take the form of hybrid capital instruments. Banks that hold more of it may be able to raise their credit profile, because ALAC provides a buffer against senior unsecured debt holders being bailed in, S&P says.
While ALAC's newness means that, for now, there "are more questions than answers," Nykredit estimates more and more banks will start selling bonds that fulfill ALAC's characteristics as they try to build buffers and raise ratings, Holm said.
"This is a good period for issuing," he said.
For Nykredit, "that means issuing Tier 2 capital, as we have been planning all along," Holm said. "On top of that we would probably issue these new instruments, if there will be new instruments."
ALAC bonds probably will count toward a requirement for bail-in-able instruments, equal to 2 percent of assets, which Denmark is imposing on its mortgage banks, Holm said.
Nykredit faces a challenge in meeting stricter capital requirements, according to the Financial Supervisory Authority.
Tapping Markets
The mortgage lender can't raise capital as easily as its listed peers because of its ownership structure, the FSA said May 13, after conducting an inspection of the Copenhagen-based bank. Nykredit's majority shareholder is the Nykredit Association, made up of the mortgage lender's clients.
While the FSA "is not concerned as such, we will have the potential challenges for the mortgage banks in this regard in our supervisory focus over the coming years," Morten Johansen, deputy director of the FSA's banking analysis division, said in a May 13 e-mail in response to questions.
Nykredit in the meantime will be watching the development of the new ALAC market. The bank will wait first to see "what the U.K. and German banks are doing and then assess how the market is for us," Holm said.
Before it's here, it's on the Bloomberg Terminal.
LEARN MORE