Auckland Housing Curbs May Give RBNZ More Scope to Cut Rates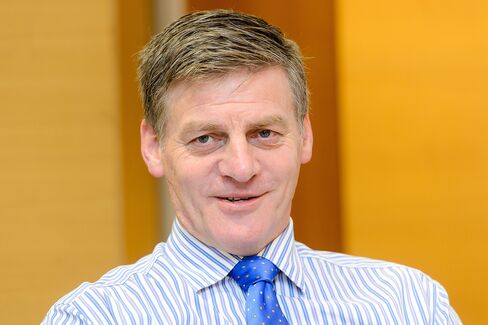 New Zealand's central bank may have more scope to cut interest rates after the government joined the assault on soaring Auckland house prices, analysts said.
Finance Minister Bill English yesterday announced measures to more rigorously enforce taxation of capital gains on investment properties and ensure non-residents are included in the tax net. The move came less than a week after the Reserve Bank said it will require investors to have a 30 percent downpayment to get a mortgage on Auckland property. The changes take effect Oct. 1.
Policies designed to cool Auckland's rampant market, where prices are rising at an annual pace of almost 17 percent, could embolden RBNZ Governor Graeme Wheeler to lower borrowing costs as falling dairy incomes threaten to curb economic growth. He said April 30 it would be appropriate to lower the benchmark rate from 3.5 percent if demand weakens and near-zero inflation starts to damp wage and price-setting behavior.
"The news that housing is being addressed by the twin prongs of fiscal and macro-prudential policy frees the RBNZ up to focus on other drivers for monetary policy," said Sam Tuck, senior currency strategist at ANZ Bank New Zealand Ltd. in Auckland. "It reinforces the case for a lower official cash rate."
The New Zealand dollar fell Monday to 74.51 U.S. cents at 10:50 a.m. in Wellington from 74.74 cents late Friday.
Rate-Cut Bets
There is a 58 percent chance of a rate cut in June, up from 48 percent a week ago, swaps data compiled by Bloomberg show. While most economists forecast no cuts this year, ANZ predicts Wheeler will lower them next month and ASB Bank expects a reduction in September.
"Should economic data prove weaker than expected, there is a possibility they will go as early as June," said Jane Turner, senior economist at ASB in Auckland. Depressed dairy prices, weak inflation expectations and the softer labor market would all be closely watched by the RBNZ, which is due to publish new economic forecasts June 11, she said.
Wheeler has been reluctant to cut rates for fear of throwing fuel on the Auckland housing market and exacerbating risks to financial stability. House prices in the nation's largest city jumped 16.9 percent in March from a year earlier compared to 3.2 percent in the rest of the country.
While Auckland's boom is largely driven by a lack of housing supply and record immigration, it has prompted debate about the role of speculators, including overseas investors. Though capital gains on property bought for investment purposes are taxable in New Zealand, until now the rules have not been rigorously enforced.
Two Years
From Oct. 1, capital gains on residential property sold within two years of purchase will be taxed unless it is the seller's main home, inherited from a deceased estate or transferred as part of a relationship property settlement, English said yesterday. Non-resident buyers will also be required to have a New Zealand bank account and Inland Revenue tax identification number.
There will be a temptation to "read too much" into the changes, said Craig Ebert, senior economist at Bank of New Zealand in Wellington, who doesn't forecast any rate reductions from the RBNZ.
"We don't see these as silver bullets that will allow the Reserve Bank to necessarily cut interest rates as soon as next month," Ebert said. "They increase the scope for some cash-rate reduction further down the track, providing the broader macro-economic case for it can be justified."
Before it's here, it's on the Bloomberg Terminal.
LEARN MORE