Yepremian, Two-Time NFL Champ With One Miscued Kick, Dies at 70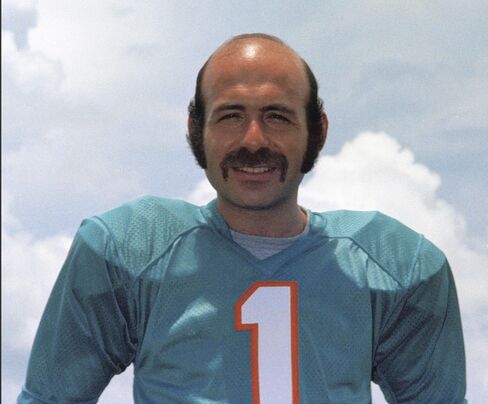 Garo Yepremian, who kicked the Miami Dolphins to two NFL titles and had one enduring Super Bowl miscue, died at the age of 70.
Yepremian died Friday of cancer, the National Football League team said on its website. His wife, Maritza, said his illness was diagnosed in May 2014 and that he died at a hospital in the Philadelphia suburb of Media, Pennsylvania, according to the Associated Press.
Yepremian, who stood out because he was 5-foot-8 and bald, played in the NFL from 1966-81 and was named an All-Pro twice. He played nine years with the Dolphins following a two-year stint to open his career with the Detroit Lions. After Miami he played one season with the New Orleans Saints and two with the Tampa Bay Buccaneers.
"He didn't know much about football when he started his career but certainly helped win a lot of games for us during his time in Miami," Don Shula, who coached the Dolphins from 1970-95, said in comments e-mailed by the team. "He was unique in Dolphins history."
Garabed Sarko Yepremian was born June 2, 1944, in Larnaca, Cyprus, according to Pro-Football-Reference.com. He came to the U.S. at the age of 22.
Yepremian made 210 of the 313 field goals he attempted for a 67.1 career percentage, three times leading the NFL in that statistic.
He hit 24 of 37 field-goal attempts in 1972 as the Dolphins took a 16-0 record into their Super Bowl matchup with the Washington Redskins.
Historic Miscue
Miami was leading the title game 14-0 when a 42-yard field-goal try by Yepremian was blocked. He picked up the ball and tried to throw it forward, though the ball slipped out of his hands before he batted it into the air and into the hands of Mike Bass, who returned it 49 yards for a touchdown.
The Dolphins went on to a 14-7 win and captured the championship, marking the last undefeated season in the NFL. The Dolphins also won the Super Bowl the following season.
"Garo went from 'I kicked a touchdown' to making some of the most pressure kicks in Dolphins history," Shula said. "When you think back about Garo there were a lot of great moments and some that were not so great. No matter what, though, he had a positive attitude all the time."
Before it's here, it's on the Bloomberg Terminal.
LEARN MORE