Turkish Banks' Plea for Eased Regulation Rejected -- for Now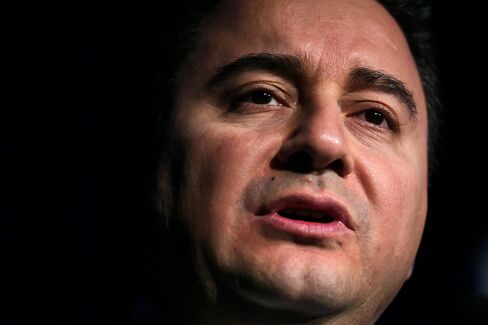 In an unusual public showdown, Ali Babacan, the outgoing head of Turkey's economic administration, slapped down a collective plea from the country's banks for looser regulation.
Taking turns speaking in Istanbul, Babacan and Huseyin Aydin, chief executive officer of the largest state-run bank and head of the nation's banking association, put forth competing visions for Turkey's $820 billion banking industry. On one side were Aydin's complaints of slowing growth and tighter profit margins; on the other, Babacan's concerns about rapid accumulation of debt and macroeconomic imbalances.
Which vision ultimately prevails is likely to have significant consequences for a country where a strictly regulated banking industry, the outcome of a 2001 banking crisis, is now cited as a core economic strength by ratings companies and investors. While Babacan won the day, term limits will push him out of office at June 7 elections, potentially leaving his post open to others more sympathetic to Aydin's views.
"Banks have had to deal with new banking regulations almost every day," Aydin said at the banking association's general assembly on Thursday. He called for measures to free up capital, including lower taxes and reduced risk weightings on loans, saying they would spur lending and stimulate the flagging national economy.
Risk Perception
"We have no margin for complacency when it comes to regulations that may increase risk perception about the banks," Babacan responded. "If we implemented some of these demands, it could mean rolling back the progress we've made over the last few years."
While Babacan has been a key figure in Turkey for international investors, his influence over future economic policy appears to be waning, according to Paul McNamara, who helps oversee $6.3 billion as a money manager at GAM UK Ltd. in London. Now deputy prime minister, Babacan has been in charge of economic coordination since 2009, when President Recep Tayyip Erdogan was still prime minister.
"Babacan is hugely respected abroad and in the markets, but to be honest I think Erdogan's support favors the banks," McNamara said by e-mail on Thursday. "The picture abroad is that the banks have clout, but outgoing politicians - even respected ones like Babacan -- tend not to."
'Too Protective'
Aydin's demands echoed the perspective of Economy Minister Nihat Zeybekci, a staunch Erdogan ally and advocate of lowering interest rates to jump-start economic growth, which fell to 2.9 percent last year from 4.2 percent in 2013. Zeybekci said last week that Turkey's capital requirements and reserve ratios for banks are too high and "too protective."
Turkish bank loans surged by more than 25 percent a year on average from 2010 to 2013, swelling the current-account deficit as consumers borrowed to purchase imported goods. Regulators responded with a raft of macro-prudential measures designed to discourage consumer borrowing in favor of lending geared toward investment.
Those measures, by making it more expensive for banks to extend retail loans, reduced the proportion of consumer loans among banks' total lending to 27 percent from 33 percent three years ago. The ratio of business loans increased to 73 percent from 67 percent.
Short-Term Gains
"Turkish banks' profitability has been on a secular decline since the end of 2009," said Ercan Uysal, a partner at Istanbul-based research firm Integras. Uysal estimated that the banks' return on equity could have been 2 to 3 percentage points higher than current levels of 10 to 11 percent if some of these measures were removed.
Yet with the current-account deficit widening more than expected in March to $4.96 billion from $3.39 billion a year earlier, Uysal said those regulations were prudent.
"Unless all or some of those risks are mitigated in a credible way, we do not believe it's in the best interests of the banking sector to lobby for elimination or relaxation of the macro-prudential measures in search of short-term gains," he said.
Aydin told reporters after the meeting that he predicted at least some of the demands would be met.
The appointment of a new chairman of the banking regulator, known as the BDDK, Friday may further buoy his confidence. Mehmet Ali Akben, a career Islamic banker, signaled a shift in policy priorities in an interview the day after Aydin spoke.
"In future, we're going to have a stronger BDDK which is more supportive of production across all sectors," Anadolu Agency quoted Akben as saying.
Before it's here, it's on the Bloomberg Terminal.
LEARN MORE