To Expunge Default Stain, Vitro Announces Bond-Market Exit Plan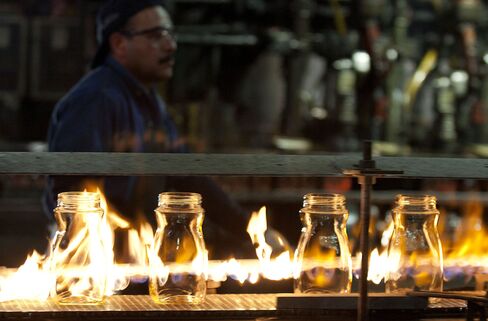 Two years after settling with dissatisfied creditors including billionaire Paul Singer, Vitro SAB is now poised to eliminate the last vestige of its 2009 default.
The Mexican glassmaker will use the money from the $2.15 billion sale of its food-container unit to repurchase all of its debt, including bonds issued in the restructuring, Chief Financial Officer Claudio Del Valle said Wednesday. Vitro will buy back its $1.01 billion of notes due in 2016 and 2018 at 100 cents on the dollar plus accrued interest, he said.
The decision is the latest milestone for a company that used a loophole to become its own biggest creditor to reduce debt over bondholder objections in local courts -- a move that triggered an overhaul of Mexico's bankruptcy laws.
That settlement was later rejected by U.S. courts, forcing Vitro back to the negotiating table with Singer's Elliott Management Corp. and other hedge funds.
"It will be nice for them to see the back side of the debt market after the very adversarial positions taken by both sides," Michael Roche, a fixed-income strategist at Seaport Global Holdings, said from New York. "If you get overextended financially, bondholders armed with their rights can define your business's existence."
Vitro agreed to sell its food-and-beverage glass business to Owens-Illinois Inc., the world's largest maker of glass containers, according to both companies on Wednesday. The deal is expected to close within a year, Owens-Illinois said.
'Better Off'
Prepaying the bonds will free Vitro from expensive liabilities stemming from the debt restructuring, Del Valle said. Vitro pays 8 percent interest on those notes. While it has no immediate borrowing plans, the company will be able to obtain lower borrowing costs if it returns to the bond market with improved finances, he said.
"The debt came from an expensive restructuring with a lot of limitations, and we'll be better off without it," Del Valle said from the company's base in San Pedro Garza Garcia, Mexico. "We may eventually borrow again if there's a need. But we'll be able to do it under better conditions."
In 2013, New York-based hedge fund Fintech Advisory Inc. agreed to buy $729.2 million of claims against Vitro for 85 cents on the dollar as part of the effort to settle with creditors that also included Aurelius Capital Management LP.
In return, Fintech got a $235 million note from a Vitro subsidiary along with a 13 percent stake in the unit that was later converted to a 20 percent share in the parent company. In December, Vitro said it made a $35 million payment on the note, leaving $200 million outstanding.
Court Battle
Fintech declined to comment. The hedge fund's founder, David Martinez, will sell 9.6 percent of Vitro's outstanding shares to Vitro Chairman Adrian Sada Gonzalez and Chief Executive Officer Adrian Sada Cueva, the company said in a filing with Mexico's stock exchange Thursday.
Vitro's $814.7 million of 2018 notes trade between 100 cents and 101 cents on the dollar, according to Seaport Global.
The settlement came four years after Vitro defaulted, setting off court disputes between the company and bondholders. The conflict came to a head when a bankruptcy judge in Dallas ruled against Vitro's restructuring plan in June 2012, saying it swamped the votes of outside creditors by using obligations among various company units.
'Wise Guys'
"It was trying to be 'wise guys' or outsmart the lawyers, the creditors, the system," Arturo Porzecanski, a professor of international economic relations at American University, said from Washington. "In the end, they were stopped by the U.S. courts, not by the Mexican courts."
In the wake of the dispute, Mexico President Enrique Pena Nieto changed the nation's bankruptcy laws to ban the maneuver used by Vitro.
Mexico's peso strengthened 0.6 percent to 15.0079 per U.S. dollar as of 12:29 p.m. in New York.
With the sale of the unit, Vitro will now focus on making car windshields, construction glass and containers for cosmetics and perfumes. The company, which is unrated, has benefited from the boom in U.S. auto sales; clients include General Motors Co., Nissan Motor Co. and Volkswagen AG.
"They may eventually come back to the bond market; you never know," Jim Harper, the head of corporate research at BCP Securities, said by telephone from San Salvador, El Salvador. "They might even be investment grade when they come back."
Before it's here, it's on the Bloomberg Terminal.
LEARN MORE