SPX Fails Say-on-Pay as Bigger Salaries Replace Club Dues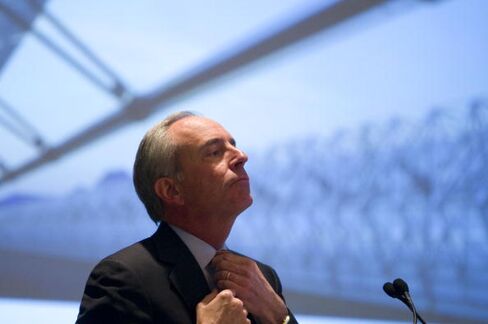 Shareholders of SPX Corp., an industrial equipment maker, rejected the company's executive compensation plan after boosting its chief executive officer's reported pay 66 percent in 2014.
About 53 percent of voting shareholders voted against the plan in its say-on-pay referendum, according to a May 13 filing that disclosed the results. The Charlotte, North Carolina-based company also increased some salaries to make up for certain reduced perks.
Chairman and CEO Christopher Kearney was paid $15.2 million in 2014, compared to $9.2 million the year earlier, according to summary compensation table data in the company's proxy filed in March.
SPX boosted its named executives' salaries by an average of about 8 percent in 2014, which was partly meant to make up for some perk reductions including the elimination of car allowances and club memberships, the proxy shows. It also was to bring compensation in line with peers, according to the filing.
Jennifer Epstein, a spokeswoman for SPX, didn't return a call and e-mail seeking comment.
It's rare for companies to fail the votes on payouts, which are advisory and non-binding. Last year, the average support for company pay practices was 91 percent, and only 2 percent of companies failed to get majority support, according to Towers Watson, a consulting firm. Nuance Communications Inc., TCF Financial Corp. and Cogent Communications Holdings Inc. are other companies that failed their say-on-pay votes this year, according to data compiled by Bloomberg.
Mack-Cali
Mack-Cali Realty Corp., an Edison, New Jersey-based real estate investment trust, said today that 65 percent of voting shareholders rejected its executive compensation plan. It was the second year in a row the company failed the vote.
SPX hasn't received support from more than 70 percent of voting shareholders since it held its first poll in 2011, according to data compiled by Bloomberg. Last year SPX received 62 percent support for its 2013 compensation.
SPX shares fell 14 percent last year compared to a 10 percent gain in the Russell 3000 Index.
Kearney's cash bonus increased by 69 percent to $3.09 million after the company surpassed its performance targets. His 2014 compensation also included a $1.21 million salary and $6.94 million in stock awards, the summary compensation table shows. The change in his pension value and nonqualified deferred pay was $3.59 million, compared to $771,380 the year earlier.
Before it's here, it's on the Bloomberg Terminal.
LEARN MORE