Sarandos Defends Netflix as Supporter of European Filmmakers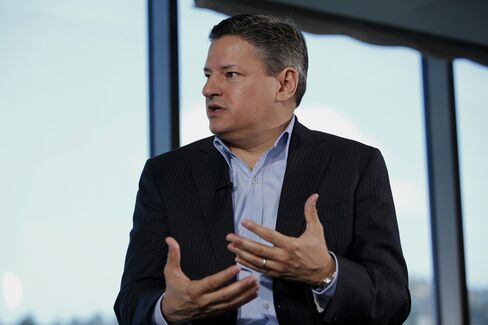 Netflix Inc. Chief Content Officer Ted Sarandos defended his company against accusations at the Cannes Film Festival that the streaming service is hurting Europe's subsidized film industry.
During a question-and-answer session, Sarandos was challenged by Andre Lange of the government-backed European Audiovisual Observatory for not paying into the system that provides tax subsidies to local movie makers.
"Are you aware that in five, 10, 15 years you will destroy the current ecosystem of film production in Europe," Lange, head of the observatory's department for information on markets and financing, asked after an on-stage interview with Sarandos.
France requires national broadcasters and distributors to contribute to local film funds. Foreign services like Netflix are exempt. Sarandos, joined by U.S. movie mogul Harvey Weinstein, defended the online service as an important benefactor of local producers.
"I think what we are going to do is grow the film ecosystem," Sarandos said. "We don't take any money out of the system."
The event, part of the festival's Next program, was designed to highlight the growing role of digital distributors in the movie world. Both Netflix and Amazon.com Inc. have begun producing original films and TV shows for their video-streaming services. Some theater operators and broadcasters feel threatened by the new distribution model.
"Marseille," a Netflix show, was shot in France with French producers and talent, according to Sarandos.
"We won't take one cent of French tax dollars to produce that show," he said. "Our plan is not to draw from those funds, not to pay into those funds because we are creating content for the world."
French Shows
More than a million people watch French-language television in America on Netflix, raising the opportunity of hiring more French talent, Sarandos said. Netflix, based in Los Gatos, California, will be producing content in most of the markets it operates in, he said. The company is considering films with budgets from under $10 million to over $50 million.
The exchange spurred Weinstein to defend Netflix, which has an agreement to distribute some of his films online. The Oscar-winning producer, who was sitting in the front row alongside Jane Fonda, attended the session because he assumed Netflix would be criticized for upsetting the status quo.
Better Spent
"I hope that the government spends its money on hospitals and children, and that the marketplace is so good that his films can be sold to the marketplace and won't need government subsidies," Weinstein said.
Some U.S. theater chains said last year they will boycott "Crouching Tiger, Hidden Dragon 2," the sequel co-produced by Weinstein Co. that will premiere on Netflix and on some Imax Corp. screens in 2015.
Weinstein praised Netflix's commitment to documentaries and local programming and said the company has delivered a wake-up call to state broadcasters such as TF1 in France and the BBC in the U.K.
"Having the rebel in the room has made us all better and stronger," Weinstein said.
Before it's here, it's on the Bloomberg Terminal.
LEARN MORE