Most in Kaisa Creditor Committee Said to Agree 73-Cent Offer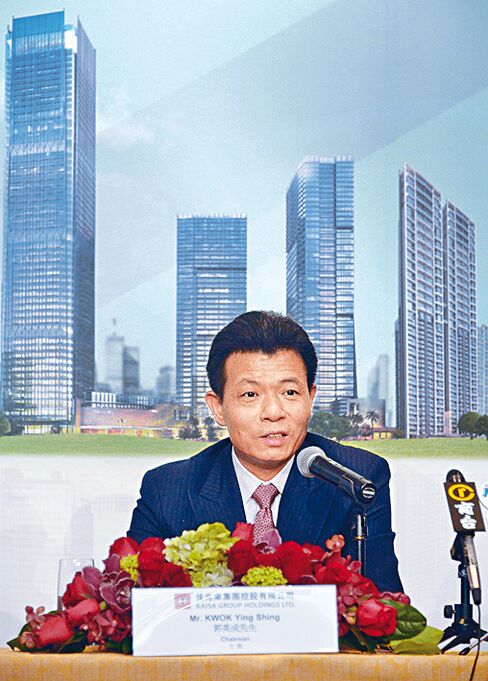 Six of the eight money managers in Kaisa Group Holdings Ltd.'s offshore bondholder committee have agreed with Sunac China Holdings Ltd. on an improved debt restructuring offer, people familiar with the matter said.
The proposal equates to about 73 cents on the dollar in net present value terms for Kaisa's dollar bonds, compared with the developer's initial offer that Bank of America Corp. had said equated to between 55 cents to 60 cents. The revised plan is based on an acceptable annual return on investment for Kaisa's notes of about 15 percent, the people said, asking not to be identified because the details are private.
Kaisa, based in the southern Chinese city of Shenzhen, is seeking to restructure some $10.5 billion of interest-bearing debt amid a takeover bid by rival property developer Sunac that could be valued at as much as $1.2 billion. Sunac suspended trading in its shares in Hong Kong earlier today pending an announcement about the proposed acquisition.
Neil McDonald, a lawyer at Kirkland & Ellis LLP, the law firm advising the offshore bondholder committee, said he couldn't comment.
Tianjin-based Sunac agreed in February to buy a 49 percent stake in cash-strapped Kaisa and to make a general offer for the rest of the company. The deal has been complicated by a delay in Kaisa's financial results and the return of its Chairman Kwok Ying Shing.
'Still Determined'
Kwok resigned from Kaisa on Dec. 31, citing health reasons, only to return to the helm on April 13. Seven days later the company defaulted on two of its dollar bonds. Kwok told offshore bondholders earlier this month he may offer them a better restructuring proposal than the one Sunac has made, raising questions about his intention to sell the company, other people familiar with the matter said.
The revised 73-cent offer, reported by Debtwire earlier, shows "Sunac is still determined to get the Kaisa deal done," according to Rui Guo, a credit analyst at Mitsubishi UFJ Securities (HK) Ltd. Sunac "sees the Kaisa acquisition as a relatively low cost way to acquire good quality assets in Tier 1 cities in the Pearl River Delta," he wrote in a research note today.
Kaisa's $800 million of 8.875 percent 2018 bonds, sold at par or 100 cents on the dollar in March 2013, jumped 2.4 cents to 67.018 cents, the highest in a month, as of 3:55 p.m. in Hong Kong. Its $250 million of 12.875 percent 2017 notes also increased 2.4 cents, the most in two weeks, to 67.441 cents, prices compiled by Bloomberg show.
Highbridge Leaves
Sunac shares closed 0.8 percent lower at HK$10 on Thursday, before they were suspended. Stock in Kaisa has been suspended from trade since March 31.
Prudence Investment Management Ltd. was among the funds that didn't agree to the revised offer, the people familiar with the matter said today. Officials at the money manager couldn't immediately comment when reached by phone.
There are now eight money managers in Kaisa's offshore bondholder committee after Highbridge Capital Management (HK) Ltd. resigned from what was a nine-member steering group, other people familiar said today.
The eight are Ashmore Investment Management Pte, BFAM Partners Hong Kong Ltd., CQS (HK) Ltd., Citic Securities International Co., Claren Road Asset Management LLC, Harvest Global Investments Ltd., Prudence Investment Management and Value Partners Ltd.
No Results
Sunac has sought permission from Hong Kong's stock exchange to proceed with its acquisition of a stake in Kaisa even though Kaisa hasn't published audited results for 2014, people with knowledge of the matter said on April 30. If the exchange grants the waiver, it would pave the way for Sunac to complete the purchase before the expiration date of July 31.
Kwok said on May 5 he's considering a few alternatives regarding what to do with the company, but couldn't reveal them until after the expiry date.
Kaisa became the first Chinese developer to default on its U.S. currency debt after missing $52 million of interest payments last month post a 30-day grace period. Sunac has made its acquisition conditional on Kaisa's successful restructuring of debt.
Before it's here, it's on the Bloomberg Terminal.
LEARN MORE