Malaysia's Economic Growth Eased Last Quarter on Export Drop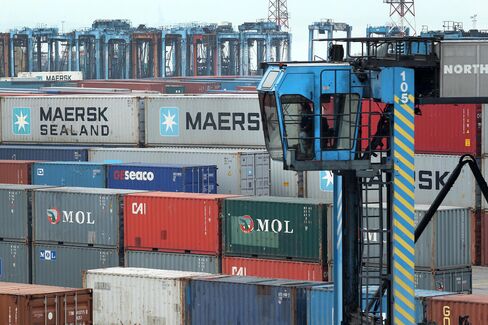 Malaysia's economic growth eased last quarter on weaker exports, a slowdown that could deepen after the start of a new consumption tax in April.
Gross domestic product rose 5.6 percent in the three months through March from a year earlier, after climbing a revised 5.7 percent in the final quarter of 2014, the central bank said in Kuala Lumpur Friday. The median in a Bloomberg News survey of 24 economists was for a 5.5 percent increase.
Malaysia's central bank has refrained from joining global counterparts in easing monetary policy, saying interest rates are delivering support for growth while guarding against inflation risks. Economic expansion may lose steam as an uneven global recovery hurts export demand and prompts consumers and companies to hold back spending.
"We are going to see a sequential slowdown over the coming quarters as the front load in pre-GST spending wears off," said Stuart Allsopp, head of financial market strategy at BMI Research in Singapore, referring to the goods and services tax. "Another risk we see is a U.S.-led global economic slowdown in which case Malaysia, as an open economy which also relies on exports, would suffer."
The ringgit was Asia's worst performer last quarter as a drop in crude prices hurt government finances and dented investor confidence. It has since swung to become the region's second-best amid a rebound in oil. The currency extended gains Friday, rising as much as 0.6 percent in Kuala Lumpur, according to data compiled by Bloomberg.
Expenditure Cuts
The Malaysian economy is forecast to grow 4.5 percent to 5.5 percent this year, down from an earlier projection of as much as 6 percent. The government trimmed expectations as it cut expenditure amid lower expected revenue from oil.
The central bank left its key rate unchanged for a fifth straight meeting this month, saying prospects are for the economy to remain on a steady growth path. Governor Zeti Akhtar Aziz signaled last month she sees no need for a rate cut in the near future, barring the threat of a "fundamental" downturn.
"Investment activity is projected to remain resilient, with continued capital spending by both the private and public sectors," the central bank said Friday. "The recovery in global growth while remaining moderate, will provide support to manufactured exports, although lower commodity prices will likely weigh down on overall exports."
Oil Buffer
Prime Minister Najib Razak's efforts to broaden the tax base through a 6 percent goods and services levy has pushed up prices at supermarkets, restaurants and retailers. While the experience in other countries showed a moderation in consumer spending in the first year of such a tax, lower oil prices may be a buffer to an expected easing, Zeti said in April.
Exports fell 0.6 percent in the first quarter from a year earlier, after increasing 1.9 percent in the previous three months. Manufacturing growth quickened to 5.6 percent, while private investment rose 11.7 percent.
Private consumption expenditure climbed 8.8 percent last quarter from a year ago, accelerating from 7.6 percent in the previous period. Household consumption was "high" on food and beverages, transport and communication, the statistics department said in a statement Friday.
Surplus Widens
Malaysia's current-account surplus widened to 10 billion ringgit in the first quarter from a revised 5.7 billion ringgit surplus in the preceding three months. That compared with the median estimate of 6.1 billion ringgit in a Bloomberg survey of five analysts.
Even as an oil rally has helped make Malaysian bonds among Asia's best performers over the past three months, it hasn't allayed Fitch Ratings' concerns over the nation's deteriorating finances ahead of a second-quarter review.
Malaysia's fundamental picture remains clouded in part by the build up of "contingent liabilities" for the government related to state investment company 1Malaysia Development Bhd., Andrew Colquhoun, Fitch's head of Asia Pacific sovereign ratings, said in an interview May 7.
Before it's here, it's on the Bloomberg Terminal.
LEARN MORE